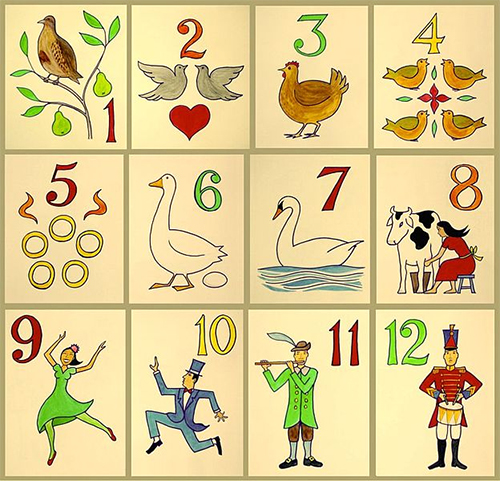 While the popular carol The twelve days of Christmas is well known for its unusual cumulative structure, few carollers know that the lyrics' original meaning involves an elaborate symbolic code.
The encoding of political messages in songs was frequent in Protestant England: examples include Rock-a-bye, baby, on the demise of King Henry VIII, and Ring around a rosy, on the plague of 1665. From at least the 1600s, Catholics in England disseminated their faith and politics in similarly encrypted form in catechism songs such as Green grow the rushes, O, and Go where I send thee.
Though first published only in 1909, The twelve days of Christmas is such a catechism song, and likely originated much earlier. The "true love" of the song is God, who bestows cumulative gifts. Each of the twelve gifts represents a particular image of Catholic faith. The ever-repeating "partridge in a pear tree" is Jesus: In English folklore the partridge feigns injury to lure predators from its young, and is thus willing to sacrifice itself to save those for whom it is responsible.
This according to "The twelve days of Christmas" by Hugh D. McKellar (The hymn: A journal of congregational song XLV/4 [October 1994] pp. 30–32). Below, a performance by the University of Washington Choral Program (with a little help from their friends).
More posts about Christmas are here.