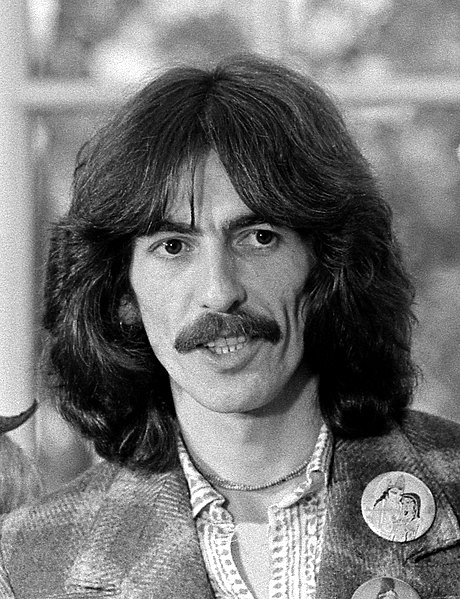 Today we honor both George Harrison's birthday and National Cancer Awareness Month.
In 1997 Harrison was diagnosed with throat cancer; it did not appear to be a large tumor, and it seemed harmless. Chemotherapy and radiation showed effective results.
But in 2000, while he was working on a reissue of All things must pass, he underwent treatment for another cancerous growth in the lung, which had migrated from his primary lesion of the throat. Later he was found to have an inoperable brain tumor as well.
Harrison underwent a new type of cancer treatment in a Swiss clinic, but he finally succumbed to his disease on November 29, 2001. If the original cancer had been screened and diagnosed in time, we might be celebrating his 70th birthday today.
This according to "George Harrison" by Anirudha Agnihotry, an article posted on the blog Oral cancer awareness drive (Oral Cancer Organization, 2013). Many thanks to Dr. Agnihotry for guest-writing this post!
Above, Harrison in 1974 (public domain); below, with a few friends.