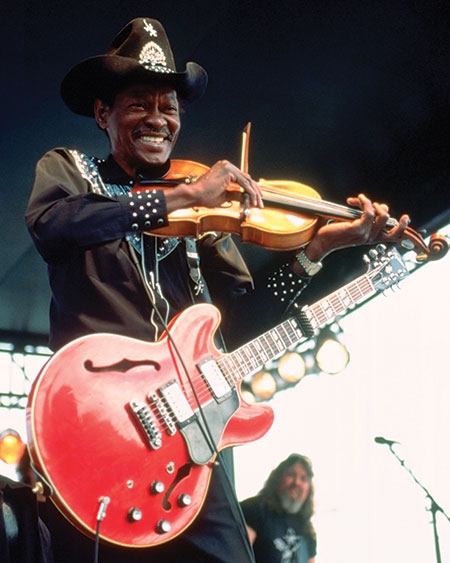 Clarence "Gatemouth" Brown (1924–2005) spent his career fighting purism by synthesizing old blues, country, jazz, Cajun, and R & B styles.
Asked in an interview about his early blues-based recordings, he gave a practical answer: "I had to sound like that because I was just starting out. Seeing as how I was a newcomer, I obliged."
"But after a while, I thought, 'Why do I have to be one of these old cryin' and moanin' guitar players always talking bad about women?' So I just stopped. That's when I started having horns and piano in my band, and started playing arrangements more like Count Basie and Duke Ellington, rather than some old hardcore Mississippi Delta stuff."
This according to "Guitarist Clarence Gatemouth Brown dies at 81" by Ben Ratliff (The New York times 12 September 2005).
Today is Brown's 90th birthday! Below, at the Montreaux Jazz Festival in 2004.