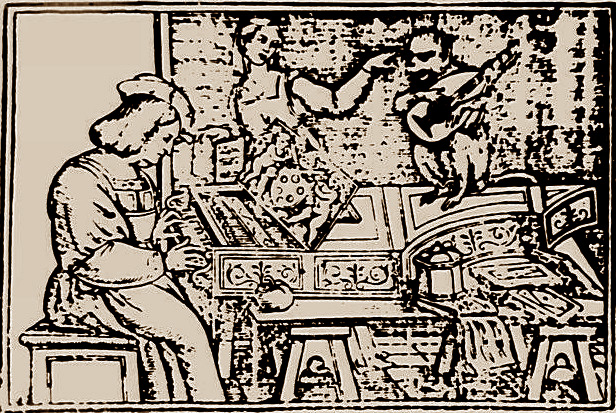 The frontispiece of Andrea Antico's Frottole intabulate da sonare organi libro primo (1517) features a woodcut of a player at a harpsichord, a singer holding a score, and a monkey holding a lute.
The image involves a symbolic mocking of Antico's  rival, the publisher Ottaviano Petrucci. Antico had greater success than Petrucci in publishing keyboard music, and the allusions in the frontispiece highlight this fact. The monkey is meant to symbolize Petrucci, and the singer is Lady Music, who is pointing her finger accusingly at him.
This according to "A monkey business: Petrucci, Antico, and the frottola intabulation" by Hiroyuki Minamino (Journal of the Lute Society of America 26–27 [1993–94] pp. 96–106).
Above, the woodcut in question; below, Ensemble Renaissance performs Antico's frottola Vale iniqua.