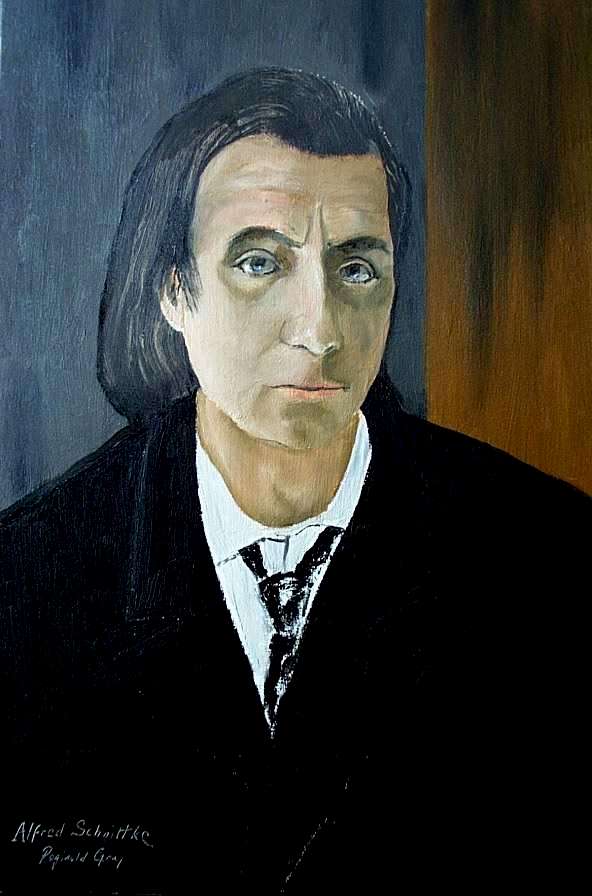 Since its premiere in 1986, Alfred Schnittke's Концерт для смешанного хора (Koncert dlâ smeŝannovo hora/Concerto for mixed chorus) has gained prominence as a masterwork in the choral repertoire.
Schnittke himself said that his goal was to provide the musical language with "deep roots", an idea that is expressed in the relationship of the work to the sacred Russian choral tradition.
An analysis of the work confirms that it shares many characteristics with various genres of that tradition. The concerto's modern influences, such as tone clusters, demonstrate an expansion of this tradition and highlight Schnittke's individual compositional voice.
This according to Alfred Schnittke's Concerto for choir: Musical analysis and historical perspectives by Mark David Jennings, a dissertation accepted by Florida State University, Tallahassee, in 2002.
Today would have been Schnittke's 80th birthday! Above, a 1972 portrait by Reginald Gray; below, the concerto's third movement.