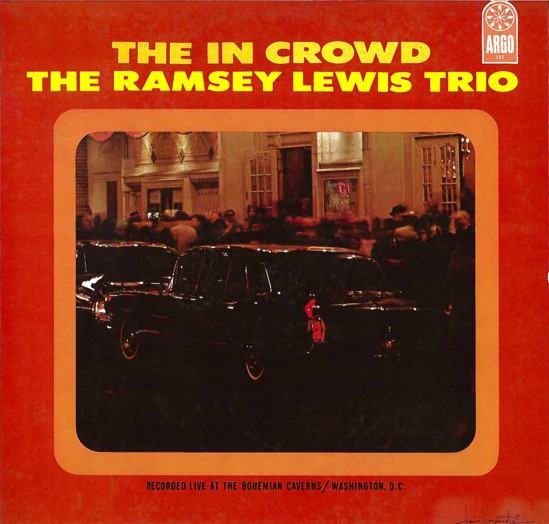 Ramsey Lewis's 1965 album The in crowd was recorded over three days (13–15 May 1965) at the Bohemian Caverns nightclub in Washington, D.C. In an interview earlier this year, the pianist recalled the experience.
"I remember when they said that I was going to play the Bohemian Caverns, I remarked 'Isn't this the place where the hard-boppers are playing? And John Coltrane, Roland Kirk and other go-get- 'em guys? They want us?' And they did."
"We were at the club trying to come up with one more song. A waitress came over and asked if we'd heard Dobie Gray's The in crowd. Eldee had heard it, and it was on the jukebox in the club. We listened to it, learned it, and at the end of the first set, Redd whispered to me 'Don't forget to play The in crowd.'"
"We started doing the song, and all of a sudden the guys in the club are moving their shoulders, and the women are standing up and clapping and dancing. We just looked at each other—it was such a pleasant surprise. When they put the single out, we got a call from Phil Chess telling us he thought we had a hit record. In those days, did jazzers have hit records? What? Are you kidding? Soon enough, it was a bona fide hit that just kept selling."
Quoted in "Lewis keeps reaching out" by Thomas Staudter (DownBeat LXXXII/4 [April 2015] p. 15).
Today is Lewis's 80th birthday! Below, Lewis performs The in crowd in 1990.