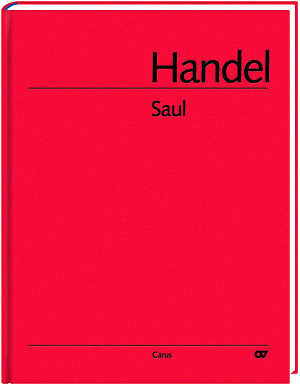 In 2014 Carus-Verlag issued Saul, HWV 53, a critical edition of Händel's oratorio that presents for the first time the version conducted by the composer himself.
Saul is one of the most dramatic of Händel's oratorios, and to a greater extent than almost any other oratorio it reveals with its gripping power its proximity to opera of its era.
The score demands what was at the time Händel's most varied orchestra; the normal opera orchestra of the day was augmented by trombones, harp, solo organ, glockenspiel, and large kettledrums. The choir functions for the first time as a central participant in dramatic action, while also undertaking commentating functions as in a Greek tragedy.
This new edition makes use for the first time of musical material revealed by the latest Händel research, based as its most important source on the conducting score from which the composer himself directed his performances. Only this research has shown which arias, choruses, recitatives, and instrumental pieces, after he had made numerous corrections in his autograph, Händel chose for his performances, and in what order they were given.
The result has produced, apart from many changes of details (e.g. autograph instructions concerning the use of the organ), an uncommon ordering of individual pieces, and passages with altered notes.
Below, a dramatic excerpt.