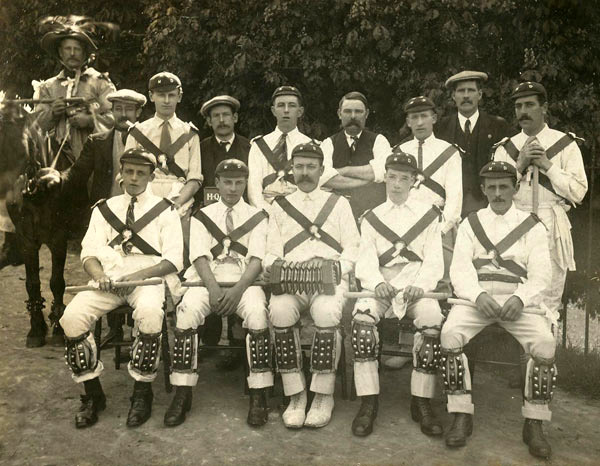 Happy Boxing Day! On this day in 1899 Cecil Sharp witnessed a performance by the Headington Quarry Morris Dancers at the home of his mother-in-law. Intrigued by the tunes, he invited William Kimber, the group's concertina player, to return the next day so that Sharp could notate them.
Sharp did not begin his folk song collecting until four years later, and in 1905 Mary Neal, an organizer at the Espérance Club for girls, asked Sharp if there were any dances to go with the tunes he had collected. Sharp referred her to Kimber, who traveled to the club to teach the dances, thus beginning the revival of traditional dance in England.
This according to "Absolutely classic" by Derek Schofield (English dance and song LXI/2 [summer 1999] pp. 8–9). Above, the Headington Quarry Morris Dancers in 1916, With Kimber and his concertina front and center. Below, Kimber plays Getting upstairs in 1946.
BONUS: The Headington Quarry team in 2008.