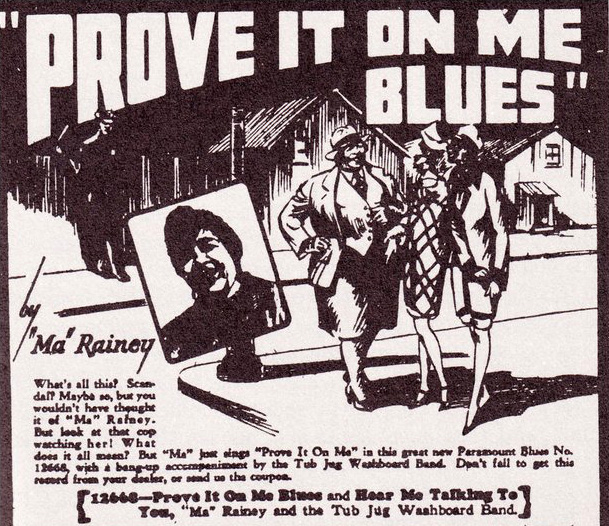 Gertrude "Ma" Rainey's Prove it on me blues affirms her independence from orthodox norms by boldly celebrating her lesbianism.
Rainey's sexual involvement with women was no secret with both colleagues and audiences. The advertisement for the song (above, click to enlarge) shows her dressed as a man, obviously flirting with two women, while a policeman keeps an eye on her.
The song's lyrics include:
They said I do it, ain't nobody caught me / Sure got to prove it on me
Went out last night with a crowd of my friends / They must've been women, 'cause I don't like no men
It's true I wear a collar and tie / Make the wind blow all the while
'Cause they say I do it, ain't nobody caught me / They sure got to prove it on me
This according to Blues legacies and black feminism: "Ma" Rainey, Bessie Smith, and Billie Holiday by Angela Y. Davis (New York: Pantheon, 1998 p. 39)
Today is Rainey's 130th birthday! Below, the 1928 recording.