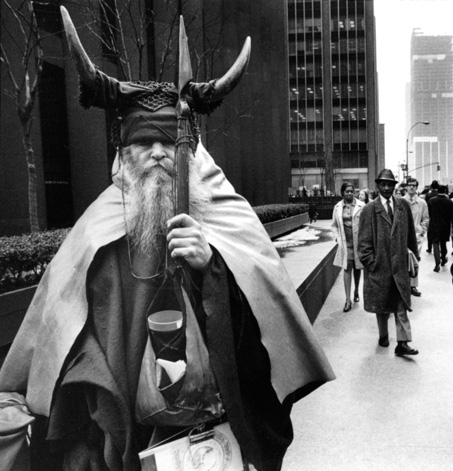 Louis T. Hardin, known to all as Moondog, was celebrated among New Yorkers for two decades as a mysterious and extravagantly clothed blind street performer; but he went on to win acclaim in Europe as an avant-garde composer, conducting orchestras before royalty.
From the late 1940s until the early 1970s Moondog stood like a sentinel on Avenue of the Americas near 54th Street. Rain or shine, he wore a homemade robe, sandals, a flowing cape, and a horned Viking helmet, and clutched a long homemade spear.
Most of the passers-by who dismissed him as "the Viking of Sixth Avenue" and offered him contributions for copies of his music and poetry were unaware that he had recorded his music on the CBS, Prestige, Epic, Angel, and Mars labels.
Although many New Yorkers assumed that he had died after he vanished from his customary post in 1974, Moondog had actually been invited to perform his music in West Germany and decided to stay.
In his later years he produced at least five albums in Europe, and regularly performed his compositions with chamber and symphony orchestras before tony audiences in German cities as well as in Paris and Stockholm.
This according to "Louis (Moondog) Hardin, 83, musician, dies" by Glenn Collins (The New York times CXLVIII/51,643 [12 September 1999] p. I:47).
Today would have been Moondog's 100th birthday! Below, his 1971 album Moondog 2.