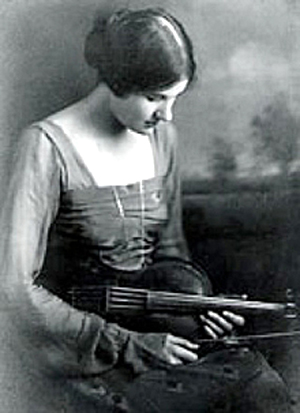 When Rebecca Clarke studied composition at the Royal College of Music she was Charles Villiers Stanford's only female student.
In 1916 she left England for the United States, where she established herself as a composer and viola soloist. In 1919 she won second prize at the Berkshire Chamber Music Festival for her Sonata for viola and pianoforte, and in 1921 she again won second prize for her Trio for violin, cello and pianoforte.
Clarke returned to London in 1923 and toured Europe—and then the world—with the English Ensemble, an all-women piano quartet.
This according to "Clarke, Rebecca" by Aaron I. Cohen (International encyclopedia of women composers [New York: Books & Music, 1987] pp. 153–54); this encyclopedia is one of many resources included in RILM music encyclopedias, an ever-expanding full-text compilation of reference works.
Today is Clarke's 130th birthday! Above, with her viola in 1919; below, the award-winning 1921 trio, which is widely considered her most important work.