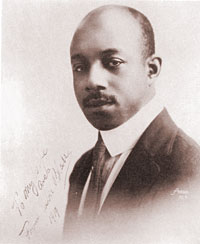 Eubie Blake enjoyed a rewarding career in the 1910s and 1920s with his lifelong friend and lyricist Noble Sissle, both as the duo Sissle and Blake, the most successful black act of their time, and as songwriters for landmark musicals—most notably Shuffle along (1921), which included their most enduring number, I'm just wild about Harry.
Blake continued to compose songs for revues through the 1930s and 1940s, although none of his ventures reached the level of success that he experienced in the 1920s. But the ragtime revival of the 1950s kindled new interest in his talents, and he began playing and composing ragtime pieces.
In 1969 Columbia issued a two-LP set, The 86 years of Eubie Blake, featuring both his ragtime and his show music (along with a reunion with Sissle), which helped to renew interest in his work. During the last decades of his life Blake had his own record label, and his songs returned to Broadway in the anthology revue Eubie!(1978), which ran for 439 performances. The show's namesake attended several times and performed a few songs on opening night.
This according to "Eubie Blake" by David A. Jasen, an article in Tin Pan Alley: An encyclopedia of the golden age of American song (New York: Routledge, 2012, pp. 47–48); this resource is one of many included in RILM music encyclopedias, an ever-expanding full-text compilation of reference works.
Today is Blake's 130th birthday! Below, performing in 1972.