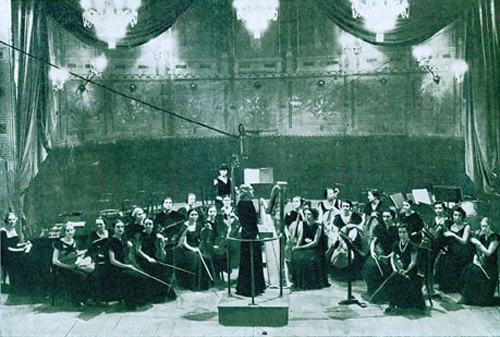 When Jane Evrard founded the Orchestre féminin de Paris in 1930 she became one of the first professional women conductors in France. The group was among the most active and well-received ensembles in the French capital from its inaugural concert until World War II.
At a time when female instrumentalists were seldom able to join professional orchestras, the all-woman ensemble provided an important performance platform for talented women string players. The group was distinguished both by the quality of its performance and by its eclectic and innovative repertoire, specializing both in reviving Baroque compositions and in promoting contemporary music.
Looking back on her career, Evrard recalled her bemusement over the mild furor caused by the appearance of a woman at the head of an orchestra: "The great critic Vuillermoz found curious and significant the conquest of feminism represented by the taking of possession of a conductor's baton. And he compared my orchestra to a battalion composed exclusively of Amazons which I led into combat!"
This according to "On the conductor's podium: Jane Evrard and the Orchestre Féminin de Paris" by Laura Hamer (The musical times CLII/1916 [autumn 2011] pp. 81–100). This journal, along with many others, is covered in our new RILM Abstracts of Music Literature with Full Text collection.
Below, Evrard and the orchestra perform a pair of dance pieces by Lully.