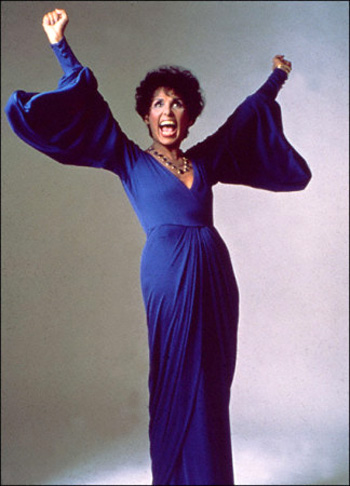 "I was the first black sex symbol, the first black movie star, and the first black to integrate saloons…I had to take a lot of flak from my own people, and everybody else's people." Thus spoke the very forthright, five-feet, five-inches Lena Horne, a musician's singer who overcame deep-seated prejudice to establish herself professionally. "I was always told to remember I was the first of my race to be given a chance in the movies, and I had to be careful not to step out of line, not to make a fuss. It was all a lie. The only thing that wasn't a lie was that I did make money—if I didn't, they wouldn't have kept me."
Horne's artistry deepened over the years as she came into her own. In 1974, at peace with herself and liberated, she reckoned, "In my early days I was a sepia Hedy Lamarr. Now I'm black and a woman, singing my own way." In 1980, shortly after she had been named one of the world's ten most beautiful women, she announced her retirement and embarked on a farewell tour.
But she had a change of heart, and in May 1981 Horne opened on Broadway in Lena Home: The lady and her music. She performed a host of songs associated with her (Stormy weather, The lady is a tramp), interspersed with sharp talk and direct reflections on her life. Newsweek raved that she was "the most awesome performer to hit Broadway in years." The New York times added, "The lady's range, energy, originality, humor, anger, and intelligence are simply not to be believed."
For her one-woman production, Horne received a special Tony Award and a Grammy (for the LP album set), and the show was taped for cable TV. Lena Home: The lady and her music ran on Broadway for 333 performances, closing on her 65th birthday. She went on tour with the production in 1984; that December she received the Kennedy Center Honors Award for Lifetime Achievement.
This according to "Lena Horne" by James Robert Parish and Michael R. Pitts (Hollywood songsters: Singers who act and actors who sing—A biographical dictionary [New York: Routledge, 2003] p. 380–90); this resource is one of many included in RILM music encyclopedias, an ever-expanding full-text compilation of reference works.
Today is Horne's 100th birthday! Below, an excerpt from her 1981 show.