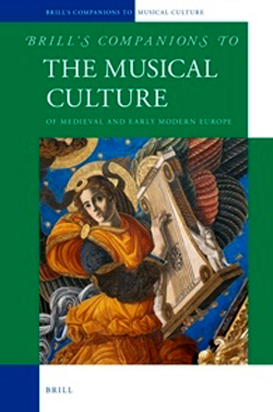 In 2017 Brill launched Brill's companions to the musical culture of medieval and early modern Europe, a peer-reviewed series of volumes providing high-level and up-to-date surveys of research into all aspects of medieval and early modern musical culture in Europe—composers, schools, genres, instruments, education, dance, musical manuscripts and printing, and the musical cultures of given cities, chapels, religious orders, and courts.
Written by the foremost specialists, the books offer balanced accounts along with overviews of the state of scholarship and debates, pointing the way for future research. The books are normally multi-author volumes, thoroughly planned out at an editorial level to ensure comprehensiveness and cohesion and maximizing their value to the student and scholar.
The inaugural volume, Companion to music in the age of the Catholic monarchs, offers a major new study that deepens and enriches understanding of the forms and functions of music that flourished in late medieval Spanish society. The fifteen essays present a synthesis based on recently discovered material that throws new light on different aspects of musical life during the reign of Ferdinand and Isabel (1474–1516): sacred and secular music-making in royal and aristocratic circles; the cathedral music environment; liturgy and power; musical connections with Rome, Portugal, and the New World; theoretical and unwritten musical practices; women as patrons and performers; and the legacy of Jewish musical traditions.
Below, a work by Francisco de Peñalosa, one of the composers discussed in the book.