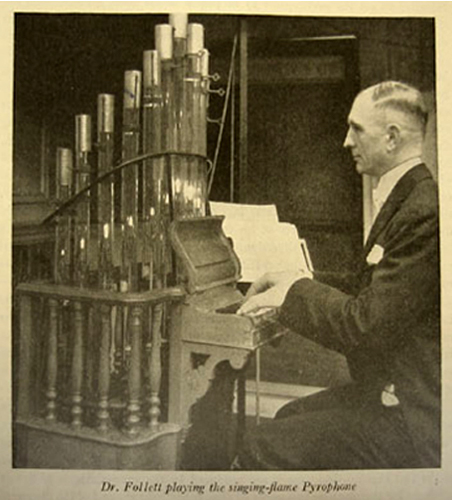 As early as the 18th century physicists were experimenting with tones produced by the effect  of flames on nearby glass tubes, and in 1873 the physicist Georges Frédéric Eugène Kastner developed a keyboard pyrophone.
More recently, singing flames have been featured in mixed media works by artists such as Andreas Oldörp, whose Singende Flammen (1988) was installed in a preexisting tunnel beneath Hamburg's Hans-Albers-Platz. Composers who have used singing flames in their work include Alvin Lucier.
This according to "Singende Flammen: Andreas Oldörps Arbeiten zwischen Experiment und Installation" by Volker Straebel (Neue Zeitschrift für Musik CLX/2 [März-April 1999] pp. 45–47).
Above, Kastner's pyrophone; below, two views of singing flames in Sydney's Darling Harbour in 2011.