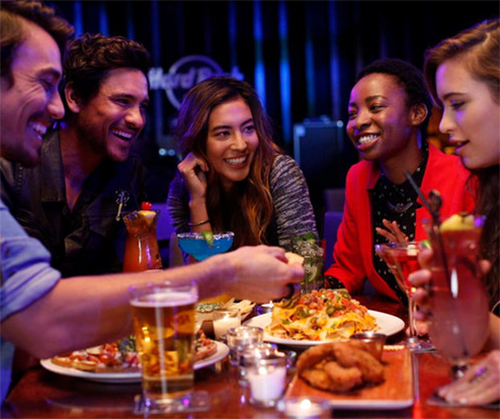 In an experiment, eleven subjects unknowingly participated in a study of the effects of music tempo on the number of bites per minute and the total time of the meal.
Three music conditions were used: fast tempo, slow tempo, and no music. A significant increase in the number of bites per minute was found for the fast-tempo condition, suggesting arousal as a possible mediator. No difference was found in total time of meal.
A questionnaire revealed no evidence that subjects were aware of the music.
This according to "The effect of music on eating behavior" by Thomas C. Roballey et al. (Bulletin of the Psychonomic Society XXIII/3 [1985] pp. 221–22). Many thanks to Improbable research for bringing this study to our attention!
Below, do diners chew faster at the Hard Rock Cafe?