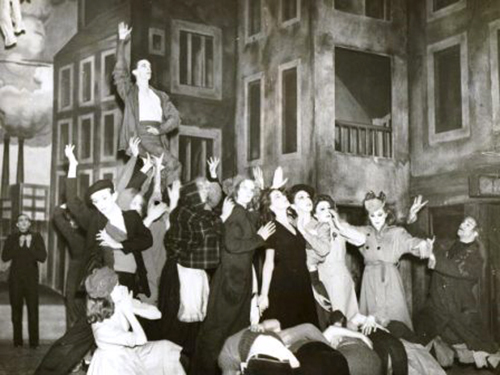 When World War II broke out, British ballet was only a few decades old, and few had imagined that it would establish roots in a nation long thought to be unresponsive to the genre.
Nevertheless, the War proved to be a boon for ballet dancers, choreographers, and audiences, for Britain's dancers were forced to look inward to their own identity and sources of creativity. Instead of withering during the enforced isolation of war, ballet in Britain flourished, exhibiting a surprising heterogeneity and vibrant populism that moved ballet outside its typical elitist surroundings to be seen by uninitiated, often enthusiastic audiences.
Ballet proved to help boost morale, to render solace to the soul-weary, and to afford entertainment and diversion to those who simply craved a few hours of distraction. Government authorities came to see that ballet could serve as a tool of propaganda; it functioned within the larger public discourse of sacrifice, and it answered a public mood of pragmatism and idealism.
This according to Albion's dance: British ballet during the Second World War by Karen Eliot (New York: Oxford University Press, 2016).
Above, Robert Helpmann's Miracle in the Gorbals (1944), one of the works discussed in the book; below, a documentary about reconstructing the dance in 2014.