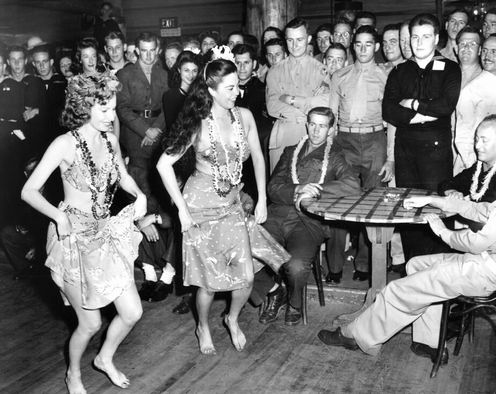 Hula performers began touring throughout the continental United States and Europe in the late 19th century. These hula circuits introduced hula and Hawaiians to U.S. audiences, establishing an imagined intimacy, a powerful fantasy that enabled Americans to possess their colony physically and symbolically.
At vaudeville theaters, international expositions, commercial nightclubs, and military bases, Hawaiian women acted as ambassadors of aloha, enabling Americans to imagine Hawai'i as feminine and benign, and the relation between colonizer and colonized as mutually desired. Meanwhile, in the early years of American imperialism in the Pacific, touring hula performers incorporated veiled critiques of U.S. expansionism into their productions.
By the 1930s Hawaiian culture, particularly its music and hula, had enormous promotional value. In the 1940s thousands of U.S. soldiers and military personnel in Hawai'i were entertained by hula performances, many of which were filmed by military photographers. Yet Hawaiians also used hula as a means of cultural survival and countercolonial political praxis.
This according to Aloha America: Hula circuits through the U.S. empire by Adria L. Imada (Durham: Duke University Press, 2012; RILM Abstracts of Music Literature 2012-30915).
Above, dancing the hula for servicemen, 1944; below, Hal Aloma with Lani McIntyre and his Aloha Islanders, 1949.