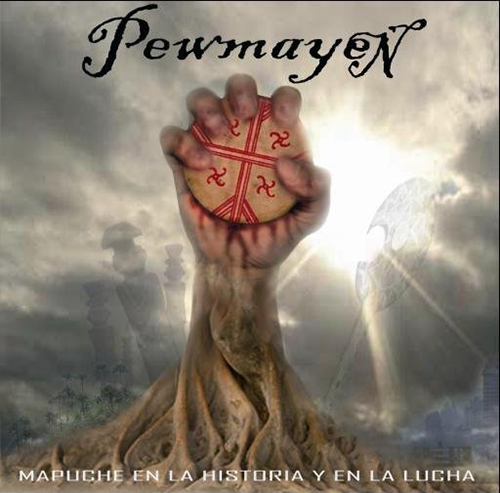 Seventeen-year-old Alex Lemún was shot and killed in 2002 while retaking ancestral lands for his people, the Mapuche, on the western side of the Andes in the Southern Cone. The song Weichafe Alex Lemún by the band Pewmayén memorialized Lemún as a weichafe (warrior) and helped spark a new musical movement.
Pewmayén's fusion of ritual sounds with heavy metal both valorized traditional expressions and opened sociocultural boundaries that historically isolated those expressions from non-Mapuche society. Mapuche music is mapping new territories of sound and meaning, with serious implications for indigenous empowerment and cultural continuity.
This according to "Martyrdom and Mapuche metal: Defying cultural and territorial reductions in twenty–first-century Wallmapu" by Jacob Rekedal (Ethnomusicology LXIII/1 [winter 2019] pp. 78–104).
Above, the cover of Mapuche en la historia y en la lucha (Mapuche in history and in struggle), the album containing Weichafe Alex Lemún; below, the music video.