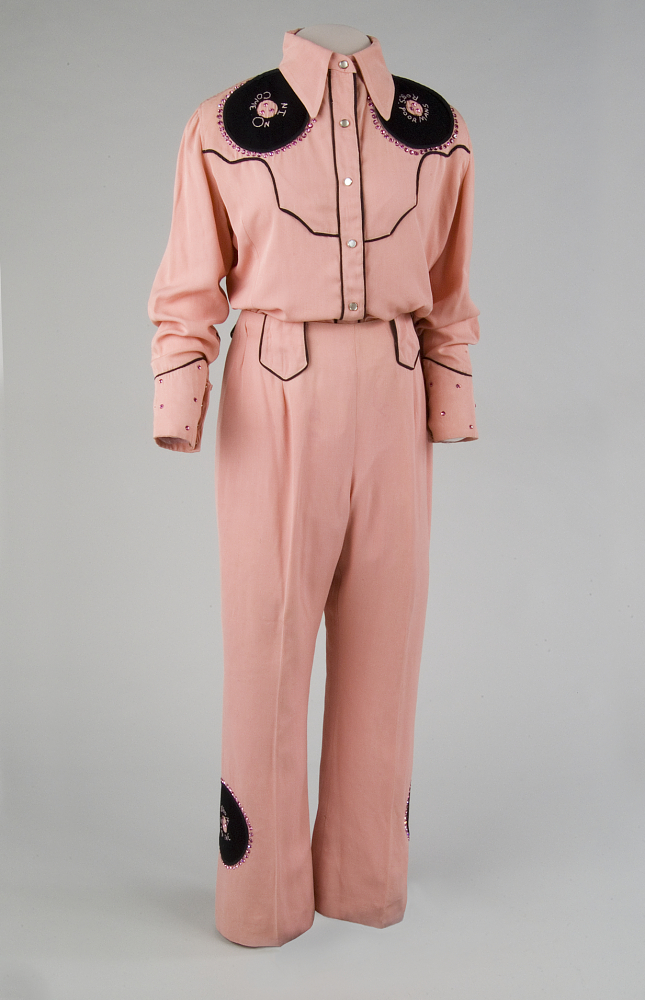 Hilda Hensley (maker), Patsy Cline's Costume, ca 1958, National Museum of American History.
Patsy Cline: Icon and Iconoclast
Arthur Godfrey's Talent Scouts producer Janette Davis made herself clear: for the show on January 21, 1957, "Walkin' After Midnight" was a better choice than "A Poor Man's Roses (Or a Rich Man's Gold)," and a sleek, blue linen, sheath dress was preferred over country western attire. That evening, the plucky and ambitious Virginia Patterson Hensley of Winchester, Virginia—Patsy Cline to her listening public—uncharacteristically put aside her pride and did what was asked of her, singing the song she once disparaged as "nothing more than a little old pop tune." Had she not, there may have been no thunderous applause to guarantee her landslide victory on the televised talent contest and no rush for the label Decca to release a recording of the song that would climb to number two on Billboard's "Hot Country" chart and number twelve on the "Hot 100" (pop) chart. In short, Patsy Cline the country western singer may not have become Patsy Cline the country-pop crossover star.
It is hard to overstate the incredible power that television had, particularly in its early years, to catapult the career of a performer like Cline. According to the advertising trade publication Sponsor, about half of all homes in the United States with a television watched Godfrey's show, which was the fifth most popular of the week. Cline was not only heard by millions that night, but also seen by millions. Although a recording artist's dress had always been essential in constituting a persona, television significantly amplified its ability to construct celebrity.
Across her career, Cline adopted at least three styles of dress that reflected her background, the different performance contexts available for country music, and changes being made within the genre itself. At a time when producers, arrangers, and sound engineers were developing what would be called the Nashville sound—replacing steel guitars, fiddles, nasal roughness, and regional dialects with more commercially viable string arrangements, background vocal quartets, and rhythmic grooves—Cline found herself negotiating the lines between the honky-tonk roots she held dear and an industry bent on expanding country western's markets. Cline preferred to project "traditional" country markers of authenticity, and particularly in the early years of her career was able to toggle between the fringed cowgirl outfits her mother Hilda made for her (for early stage shows and TV performances) and the "barn dance" look, which relied on an imagined conception of life in the rural American West. To these two options were added the more pop-friendly, form-fitting cocktail dresses prevalent in the early 1960s. As Joli Jensen notes in her contribution to the collection of essays, Sweet Dreams: The World of Patsy Cline:
Patsy Cline embodied the tension between down-home and uptown country music…That tension was obvious visually as well as aurally, where hillbilly, cowboy, and pop visual markers all mix together. Pictures of the Grand Ole Opry stage include performers in business attire (men) and dressy little suits (women) standing in front of wagon wheels, hay bales, and other barn dance signifiers, with cloggers in petticoats and banjo pickers in dungarees. This disjointed visual quality mirrors the contradictory effort, during the period, to find a commercially successful sound that could stay country but still cross over and appeal to a wider audience.
Although we should be suspicious of clear sonic distinctions between "country" and "pop," there can be no doubt that an artist's look carried important signifiers. Unlike the wardrobe choice imposed on Cline for her break-through debut on Godfrey's television show, the pink performance outfit featured here, made by Hilda in around 1958, was fashioned in the barn-dance mold. However, the inclusion of five hand-stitched, rhinestone-adorned, "record" patches, each containing a (modified) title of a Cline recording, illustrates the kind of contradictions pointed out by Jensen above. Clearly shown in the photograph above, "Come On In" and "Poor Mans Roses" sit atop the shirt's left and right shoulders, respectively. "Stop the World" appears at the bottom of the suit's left pant leg, "Yes I Understand" is affixed to the right, and "Walking After Midnight" takes its position on the outfit's back. The point is that we have a costume that is at once country and modern, traditional yet boastful, rural and urban. The patches, as an overt method of promotion, betray a sense of (gendered) humility that would have fed into the concept of respectability so important to the middle-class aspirations of many 1950s Winchester natives. But at the same time, they epitomize the striving for upward class mobility that characterized much of the decade as a whole.
The outfit also points to the rise of the disc as a medium through which to encounter music in the postwar era. After World War II, it was no longer necessary for the United States to restrict the commercial production of shellac, the material required for the construction of the record. Once records were again mass produced and displayed for all to see in jukeboxes, their prominent role as a means through which to disseminate country music could not be denied. Cline's patches not only advertised her music, but also laid bare the most profitable medium through which it could be brought to the consumer.
Patsy Cline was simultaneously a country western musician and a pop star; the first female solo country artist to be inducted into the Country Music Hall of Fame, and the recipient of a star on the Hollywood Walk of Fame. Despite her untimely death, her lasting impact is, in no small degree, due not only to the songs she brought to life in her recordings and live performances, but also to the personas she projected. Both icon and iconoclast, Cline's images remain as emblazoned on the history of American popular music as the record patches sewn on her suit.
This post was produced through a partnership between Smithsonian Year of Music and RILM with its blog Bibliolore.
Written and compiled by Michael Lupo, Répertoire International de Littérature Musicale (RILM).
Bibliography
Cline, Patsy. Love always, Patsy: Patsy Cline's letters to a friend. Comp. by Cindy Hazen and Mike Freeman (New York: Berkley Boulevard, 1999). [RILM Abstracts of Music Literature, 1999-5126]
Gomery, Douglas. Patsy Cline: The making of an icon (Bloomington: Trafford, 2011). [RILM Abstracts of Music Literature, 2011-24682]
Patsy Cline remains a much beloved singer, even though she died in 1963. By 1996, Patsy Cline had become such an icon that The New York Times Magazinepositioned her among a pantheon of women celebrities who transcended any single cultural genre. The making of an icon is a cultural process that transcends traditional biographical analysis. One does not need to know the whole life story of the subject to understand how the subject became an icon. This book explores how Patsy Cline transcended class and poverty to become the country music singer that non-country music fans embraced, going beyond a traditional biography to examine the years beyond her death. (publisher)
Hofstra, Warren R., ed. Sweet dreams: The world of Patsy Cline. (Urbana: University of Illinois Press, 2013). [RILM Abstracts of Music Literature, 2013-8235]
Jensen, Joli. "Patsy Cline, musical negotiation, and the Nashville sound", All that glitters: Country music in America, ed. by George H. Lewis. (Bowling Green: Bowling Green State University, 1993) 38–50. [RILM Abstracts of Music Literature, 1993-10704]
A brief survey of the life and career of Patsy Cline (1932–63), whose career spanned a transitional period in country music—the developing "Nashville sound" of the early 1950s. Her recording sessions reveal the search for a commercial country sound, combining pop with country. Her struggle to maintain a country definition demonstrates the defining power of music as a cultural form. (Judy Weidow)
_____. The Nashville sound: Authenticity, commercialization, and country music (Nashville: Vanderbilt University, 1998). [RILM Abstracts of Music Literature, 1998-8200]
A history of country music. Emphasis is placed on the late 1950s and early 1960s, when the growing country music industry developed what has become known as the Nashville sound. The style was less twangy, softer, lusher, and more influenced by pop music than the country music styles that preceded it. The sound sparked debates about whether country music had "sold out." The notion of country music's authenticity in relation to charges of its commercialism is examined, and the development of the countrypolitan Nashville sound is explored in detail. (Terry Simpkins)
Jones, Margaret. Patsy: The life and times of Patsy Cline (New York: Harper Collins, 1994). [RILM Abstracts of Music Literature, 1994-2174]
Nassour, Ellis. Honky tonk angel: The intimate story of Patsy Cline (New York: St. Martin's Press, 1993). [RILM Abstracts of Music Literature, 1993-3776]
Patsy Cline, the beloved country singer, soared from obscurity to worldwide fame before her life tragically ended at age 30. After breaking all the barriers in the Nashville boys' club of the music business in the 1950s, she brought the Nashville sound to the nation with her torch ballads and rockabilly tunes like "Walkin' After Midnight," "Crazy," and "I Fall to Pieces." Earthy, sexy, and vivacious, she has been the subject of a major movie and countless articles, and her albums are still among the top five best-sellers for MCA almost 30 years after her death. In the end it is her music, a standard feature on jukeboxes from Seattle to Siberia, that prevails and keeps on keeping on. Patsy's colorful and poignant life is explored in intimate detail by a veteran of The New York Times, Ellis Nassour. She is remembered in Honky Tonk Angel by the country stars who knew and loved her, among them Brenda Lee, Roger Miller, Loretta. Lynn, George Jones, Jimmy Dean, and Ralph Emery. With an introduction by the late Dottie West, a complete discography, and many never-before-published photographs, Honky Tonk Angel lovingly re-creates the life of an American legend whose music lives on forever. (publisher)