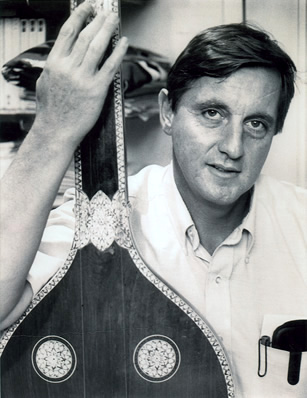 Jon B. Higgins first encountered Karnatak music as an undergraduate at Wesleyan University in 1962. He was awarded a Fulbright scholarship in 1964 to begin study in India, and was granted an unprecedented third year extension based on the seriousness of his efforts. His first public appearance at the Tyāgarāja ārādhana at Tiruvaiyaru in 1965 was the beginning of many successful concerts to follow.
Over the next 20 years he distinguished himself as an accomplished performer, earning a sizeable and appreciative audience both in India and North America. He began teaching in 1971, finally settling at Wesleyan in 1978, where, along with his many administrative responsibilities, his singing and his interest in South India remained a constant preoccupation.
His interest and love for Karnatak music was a passionate one that fed into the strong belief that the best way to understand a music—either to talk or to write about—is to know it well from the inside.
This according to "Jon B. Higgins (1939–84)" by Tanjore Viswanathan (Ethnomusicology XXX/1 [winter 1986] pp. 113–114).
Today would have been Higgins's 80th birthday! Below, one of his studio recordings.