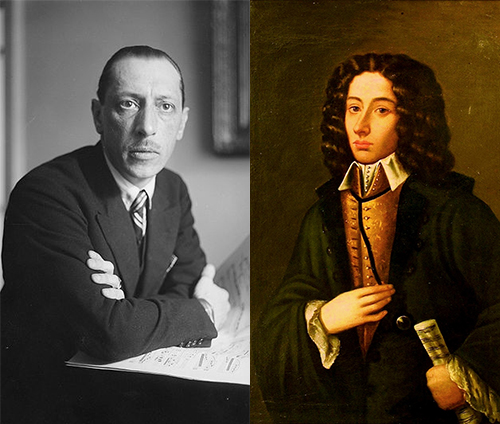 In his statements on the origin of Pulcinella, Igor Stravinsky leads the reader astray; none of the models used by him are, as he alleges, fragments, incomplete, or sketches, and none were unknown.
Stravinsky's ballet is a parody based on 21 pieces transmitted under Giovanni Battista Pergolesi's name and taken from various contexts. Four are from Pergolesi's Frate 'nnamorato, three from Flaminio, one from the cantata Luce degli occhi miei, and one from the violoncello sonata. The rest of the pieces have been incorrectly attributed to Pergolesi; one is a modern forgery.
The texts of the arias are distorted to the point of unrecognizability in Stravinsky's ballet; the curious double text in the trio results from a misunderstanding of the manuscript source. Apparently Stravinsky became acquainted with the music from both of Pergolesi's comedies in 1917 in Naples. The material that he took from these was later supplemented by primarily unauthentic pieces from printed sources in the British Museum.
This according to "Die musikalischen Vorlagen zu Igor Strawinskys Pulcinella" by Helmut Hucke, an essay included in Frankfurter musikhistorische Studien: Helmuth Osthoff zu seinem siebzigsten Geburtstag uberreicht von Kollegen, Mitarbeitern und Schülern (Tutzing: Schneider, 1969, pp. 241–50).
Today is Pergolesi's 310th birthday! Below, Stravinsky's suite from Pulcinella.