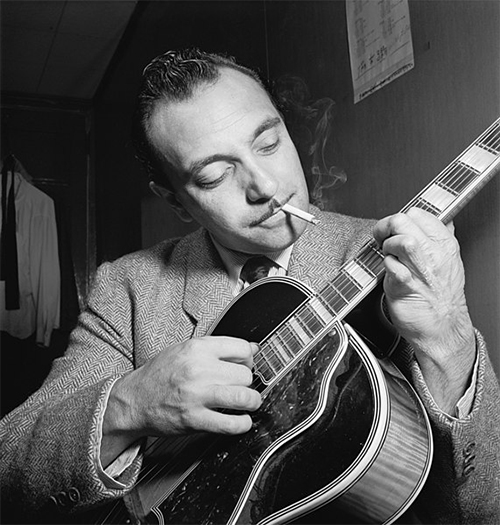 While he was perhaps the most famous and adept practitioner of American jazz in Europe during the 1930s and 1940s, the Manouche guitarist Django Reinhardt was an outsider—both culturally and geographically—to the U.S. jazz scene. For this reason, scholars have had difficulty placing him securely in American jazz history.
Reinhardt only visited the U.S. once, in 1946, as a guest of the Duke Ellington Orchestra. A recording made during that tour, A blues riff, presents a complex musical negotiation of contrasting musical and cultural values. What is heard in this performance is not just a debate over what notes to play when, but over what the philosopher Henri Lefebvre called representational spaces. The task of locating Reinhardt in jazz history requires a new theoretical appreciation for the material importance of space and place in the shaping of musical performance.
This according to "Negotiating A blues riff: Listening for Django Reinhardt's place in American jazz" by Andrew Berish (Jazz perspectives III/3 [December 2009] pp. 233–64).
Today is Reinhardt's 110th birthday!
Above, Reinhardt in 1946, the year of the recording; below, the recording itself.
Related article: Grappelli, South, and Reinhardt play Bach