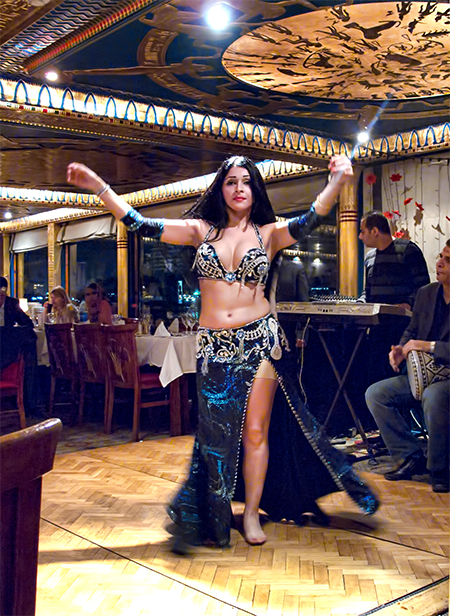 Interpretive skill plays a particularly important role in Egyptian raqṣ šarqī, which is customarily improvised by a solo dancer to live musical accompaniment. The heterophonic structure of classical Egyptian music involves layering instruments, each of which simultaneously performs its own ornamentation on the melody, rather than adding harmonies.
As an intermediary between the music and the audience, the dancer has the ability to direct the audience's attention to a particular instrument or embellishment by emulating its rhythm, pitch, and dynamics in movement. In so doing, the raqṣ šarqī dancer chooses not only what the audience will see, but also what they will hear.
The concept of muḥāsabah (analytical listening) illuminates how, by being a sammīʿa (skilled listener), the dancer can enhance the audience's appreciation of the music, temporarily making them skilled listeners as well. Ultimately, raqṣ šarqī performance is a multisensorial practice that combines sounds, sights, and movements in order to heighten the audience's aesthetic and emotional experience.
This according to Listening with the body: The raqs sharqi dancer as musical interpreter by Ainsley Hawthorn (St. Johns: Research Centre for the Study of Music, Media, & Place (MMaP), 2020).
Above, a raqṣ šarqī dancer in Cairo with her ensemble, photographed by Dan Lundberg; below, Dr. Hawthorn presents her research.
Related articles: