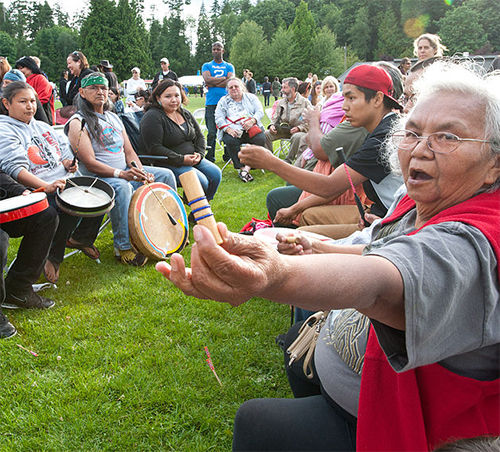 Slahal is an Indigenous team-oriented gambling game that involves skill, luck, strategy, supernatural assistance, and a specific song genre. As part of a long tradition of Indigenous gaming in the Pacific Northwest, it has become a popular form of intertribal competition throughout the region.
Song is integral to slahal; the songs, with their catchy melodies and driving frame drum accompaniment, are sung loudly and enthusiastically by the hiding team. Group singing provides opportunities for individual expression through variation of form and rhythmic accompaniment, as well as polyphony and antiphonal singing.
This according to Slahal: More than a game with a song by James Everett Cunningham, a dissertation accepted by the University of Washington, Seattle, in 1998 (RILM Abstracts of Music Literature 1999-22855).
Below, an example from British Columbia.