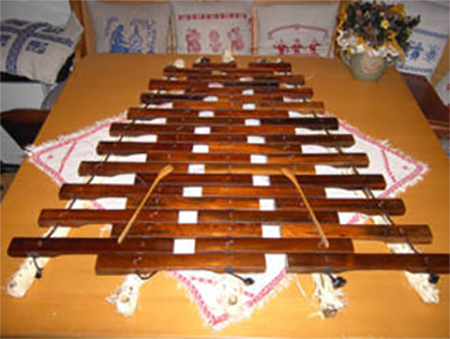 For much of the 18th century there was a clear divide between the music of the upper and lower classes in Austrian society. However, by the late 1790s, a time when Europe's ruling classes were under threat in the aftermath of the French Revolution, there is evidence to suggest that folk instruments previously associated with the lower classes—including the hurdy-gurdy, zither, tromba marina, and a peasant xylophone known as the Hölzernes Gelächter, ("wooden laughter", above)—were played in aristocratic settings.
Austrian Composers wrote operas, concertos, and chamber pieces that included parts for folk instruments; some of these works were even dedicated to the Emperor Franz II and the Empress Marie Therese. The setting of these works, compositional practice, and the design of the instruments themselves enabled the music of the lower classes to be adopted by the upper classes, perhaps to evoke a sense of place and national identity during a period of great political change. These practices paved the way for folk music to influence composers later in the 19th century.
This according to "'Wooden laughter' in the opera house: The appearance of folk instruments in Bohemian and Austrian high society at the turn of the nineteenth century" by Sam Girling, a paper included in Studia instrumentorum musicae popularis VI (Berlin: Logos-Verlag, 2019 83–100; RILM Abstracts of Music Literature 2019-12296).
Below, the Hölzernes Gelächter in action!