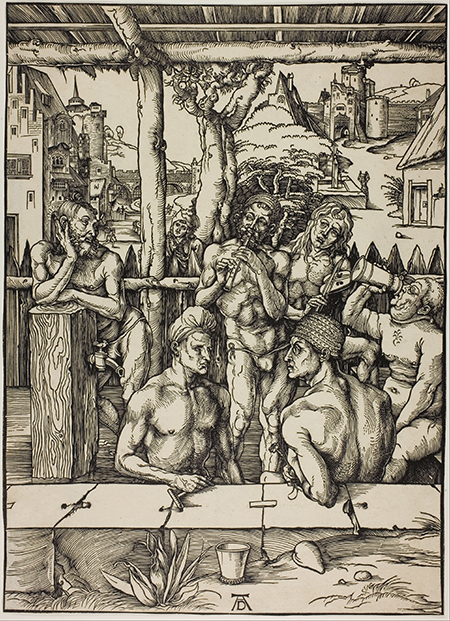 Albrecht Dürer's woodcut Das Männerbad (ca. 1496–97) includes a portrayal of two men playing recorder and rebec in a public bath.
The artist's meticulous attention to detail shows clearly that the recorder is a flûte à neuf trous (drilled to give the player a choice of left or right little finger, the unused hole to be filled with wax).
In the bath, singing is probably more widely practiced than instrumental playing, and indeed, wooden instruments might not take too kindly to the humidity; some people might be more attracted to drinking while bathing, like the gentleman to the musicians' left.
This according to "Musical ablutions" by Herbert Hersom (The recorder magazine X/1 [March 1990] 20–21; RILM Abstracts of Music Literature 1990-30337).
Today is Dürer's 550th birthday! Below, music by Ludwig Senfl, who worked at the court of Maximillian I around the time that Dürer was employed there.
More posts about iconography are here.