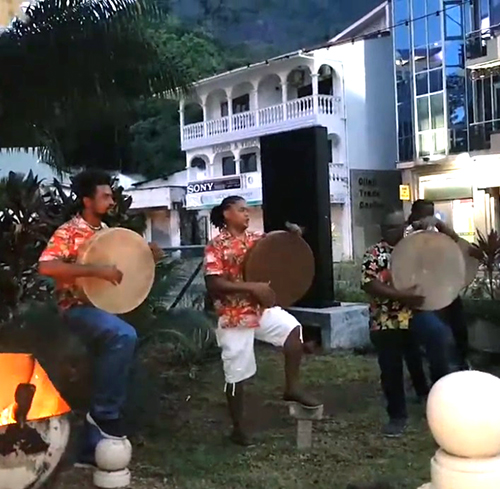 Moutya, created by slaves of African descent in the Seychelles in the late 18th century, is a combination of song, drumming, and dance. The genre's current form originated in conjunction with the construction of Seychellois Creole cultural identity after the coup d'état in 1977.
Performances of moutya that have been adapted or revived—mainly in staged performances for official events, for tourists, or as part of the local music industry—demonstrate the creolization processes, revealing the relationship between moutya and other local and regional cultural phenomena, and underlining the need for an expanded and multilayered conceptual approach to the genre.
This according to Le moutya à l'épreuve de la modernité seychelloise: Pratiquer un genre musical emblématique dans les Seychelles d'aujourd'hui (Océan Indien) by Marie-Christine Parent, a dissertation accepted by the Université de Montréal in 2018.
Above and below, a 2020 performance in downtown Victoria.