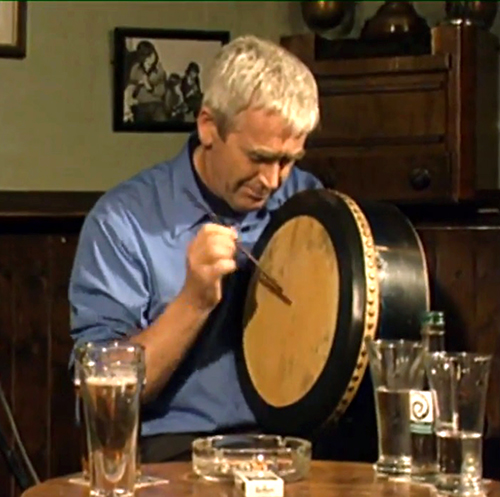 From its humble beginnings as a ritual instrument, the bodhrán has developed into a globally recognized percussion instrument that is found in diverse contexts. During the height of the Northern Ireland Troubles, the brilliant experiments and innovations of the drum maker Seamus O'Kane altered the bodhrán's design, contributing to a rapid expansion of new performance practices and increased interest in the drum.
One of O'Kane's signature innovations was the use of skins from the unionist lambeg drum. O'Kane had to precariously negotiate paramilitary politics and drum making in Northern Ireland in order to produce a superior instrument.
O'Kane's bodhráns, which he continues to make in his County Derry-based workshop, draw from both Irish republican and unionist drum making traditions. This blending of traditions has enabled him to produce an innovative, tunable drum representative of the shared musical cultures of Northern Ireland within a violent, politically divided milieu.
This according to "Bodhráns, lambegs, & musical craftsmanship in Northern Ireland" by Colin Harte (Ethnomusicology forum XXVIII/2 [August 2019] 200-16).
Above and below, O'Kane demonstrates his instrument.