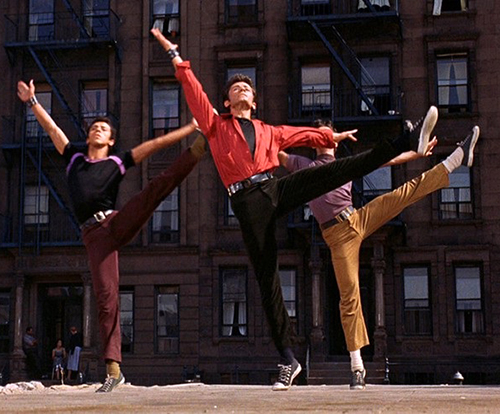 Darker than a musical comedy, less imposing than an opera, more balletic than a song-and-dance show, West Side story's tightly integrated movement, drama, design, and music signaled an important shift in U.S. musical theater.
Although its unity and coherence have drawn popular and scholarly attention, further study of the work reveals myriad interpretations and approaches—the inevitable result of a collaborative process. The choreographer Jerome Robbins wanted to create a classic, tragic dance vehicle combining ballet and popular styles; for Leonard Bernstein, it would mark the second attempt at writing the long-sought major American opera.
Torn between conflicting desires for popular success and status as a "serious" composer, Bernstein used eclecticism as a starting point for the creation of an accessible American art music. At the same time, pressure to create something "serious" within the compositional environment of the 1950s seems to have led him to employ the tritone both as a structural tool and a unifying surface detail, as well as reflecting the unusually dark subject matter of the work.
West Side story brought together some of the most prevalent and pressing issues of musical and cultural life of its day, from the New York Puerto Rican "problem" to the insurgence of juvenile delinquency. In addition, Robbins's strongly ritualistic, tableau-oriented vision, with its privileging of male over female characterization, suggests a reading linking the work to longstanding mythical and literary archetypes—but also bringing up questions of the depiction of gender and ethnicity.
Such archetypes also inform Arthur Laurents's book, one of the shortest on record for a Broadway musical. As in his other socially conscious works, Laurents mirrored Robbins's dramatic agenda: the creation of an American mythology of urban life that could be contemporary but also lasting.
This according to West Side story: Cultural perspectives on an American musical by Elizabeth A. Wells (Lanham: Scarecrow Press, 2011; RILM Abstracts of Music Literature 2011-402).
Today is the 60th anniversary of the Academy Award-winning 1961 film of West Side story! Above and below, the film's much-celebrated Prologue.