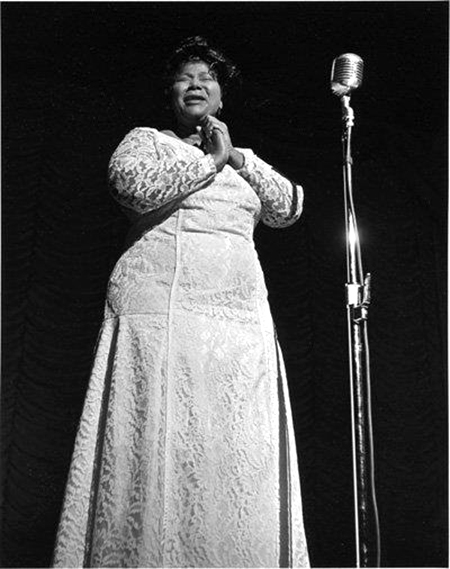 Nearly a half century after her death in 1972, Mahalia Jackson remains the most esteemed figure in Black gospel music history. Born in the backstreets of New Orleans in 1911, during the Great Depression Jackson joined the Great Migration to Chicago, where she became a highly regarded church singer and, by the mid-fifties, a coveted recording artist lauded as the world's greatest gospel singer.
This "Louisiana Cinderella" narrative of Jackson's career during the decade following World War II carried important meanings for African Americans, though it remains a story half told. Jackson was gospel's first multi-mediated artist, with a nationally broadcast radio program, a Chicago-based television show, and early recordings that introduced straight-out-of-the-church Black gospel to American and European audiences while also tapping the vogue for religious pop in the early Cold War.
In some ways, Jackson's successes made her an exceptional case, though she is perhaps best understood as part of broader developments in the Black gospel field. Built upon foundations laid by pioneering Chicago organizers in the 1930s, Black gospel singing, with Jackson as its most visible representative, began to circulate in novel ways as a form of popular culture in the 1940s and 1950s, its practitioners accruing prestige not only through devout integrity but also from their charismatic artistry, public recognition, and pop-cultural cachet. These years also saw shifting strategies in the Black freedom struggle that gave new cultural-political significance to African American vernacular culture.
This according to Mahalia Jackson and the Black gospel field by Mark Burford (New York: Oxford University Press, 2019).
Today would have been Jackson's 110th birthday! Below, performing in 1962.