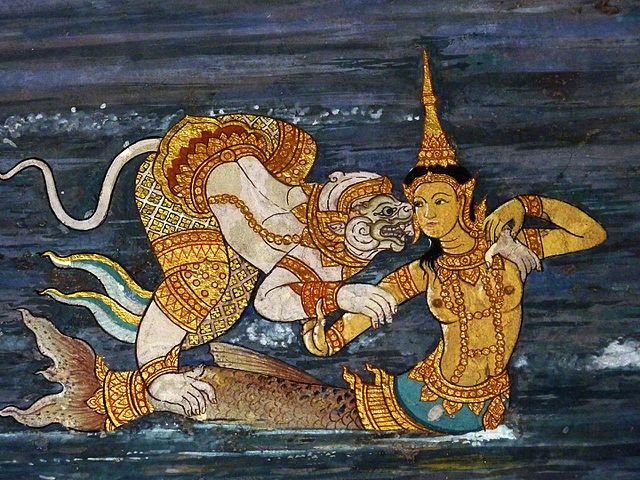 Reamker (The glory of Rama) is the Khmer version of the epic known as Rāmāyaṇa in India. While it generally hews close to the original tale, Reamker includes episodes not found in the archetypal Sanskrit version; one of these involves the mermaid princess Suvannamaccha.
In this episode, the monkey warrior Hanuman, with his band of Varanas, is trying to build a causeway to the island of Lanka, where Rama's wife Sita is being held against her will. He discovers that his work is being sabotaged by a group of mischievous mermaids, and he confronts their leader, Suvannamaccha. At first she is defiant; but then she falls in love with him, apologizes, helps him to rebuild the causeway, and eventually gives birth to their son Macchanu.
This according to "Reamker: The Ramayana from Cambodia" by Bharathi Ramasubban (Sruti 357 [June 2014] 48–51; RILM Abstracts of Music Literature, 2014-4405).
Above, a mural painting of Hanuman and Suvannamaccha at Wat Phra Kaew, Bangkok; below, an excerpt from the episode as performed by the Royal Ballet of Cambodia.