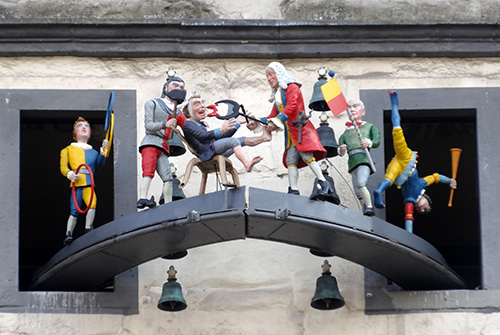 The medieval German town Hann. Münden was home to Johann Andreas Eisenbarth (1663–1727), a colorful figure who became a subject of folklore to the extent that fact and fiction are now difficult to untangle.
A celebrated surgeon who was bestowed with privileges by various members of German royalty, Eisenbarth had no formal medical credentials, nor was he ever officially awarded the title "Doctor". Nevertheless, his skill and medical innovations are matters of historical record, not least his pioneering contributions to the development of cataract surgery.
Reputed to have traveled with an entourage of up to 120 attendants including musicians, acrobats, and clowns, he is said to have plied his trade in a carnival-like atmosphere. The loud music and revelry served both to attract large crowds—potential customers for Eisenbarth's services and bottled remedies—and to drown out the cries of his patients, who underwent procedures including tooth extractions and amputations in an era before the advent of anesthetics.
In honor of this now semi-legendary resident, a mechanical clock was installed in the upper story of Hann. Münden's Rathaus in 1980. After the stroke of noon and a brief pause, an automatic carillon plays the tune of the comical song Ich bin der Doktor Eisenbart as automata depict the doctor extracting a huge, bloody tooth from the mouth of a terrified, gesticulating patient restrained by a hammer-wielding attendant. In addition to these central figures, a juggler, an acrobat, and a flag-bearer suggest the festive nature of Eisenbarth's medical procedures.
This according to "Dr Eisenbarth's automated musical clock in Hann. Münden" by Mark Singleton and Sven Heinmann (The music box: An international journal of mechanical music XXVIII/5 [spring 2018] pp. 185–87; RILM Abstracts of Music Literature 2018-52039).
Today is Eisenbarth's 360th birthday! Above and below, the good doctor in action.
BONUS: A chance to sing along!