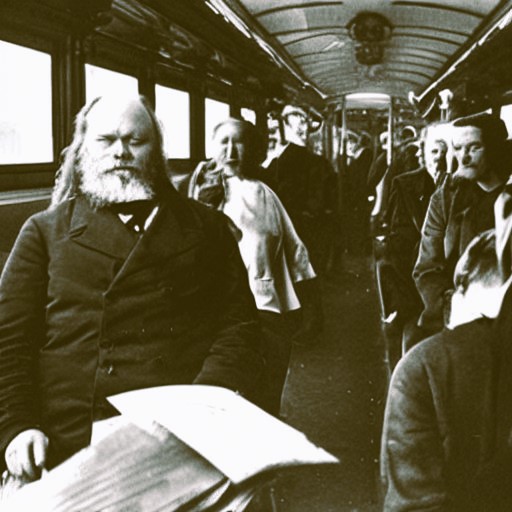 Brahms's correspondence reveals that he was very fond of railroad travel; nowadays he might be called a railfan.
In an 1881 letter to George Henschel, Brahms noted that he was spending the summer in the Viennese suburb of Pressbaum, observing that "I shall be only a short distance by rail, which, however, I always travel with great pleasure."
Advising his father on taking a train to visit him in 1867, the composer wrote:
Now you get a ticket direct to Vienna by way of Berlin, Dresden, Prague. The ticket must be valid for 5–8 days. Be sure of both things! Costs about 30 thaler second class all the way.
There are only two trains. You can of course travel through in one go—in about 32 hours. That works only if you have rainy, cool weather! Otherwise you couldn't stand it. But since the ticket is good for a week, you can also stop over for a day or half a day in each city, and look around it. But if so, go first of all to a good hotel and make use of porters and [public] servants for hire as guides. If you continue on right away in Berlin you must take a hackney to the other station. A policeman hands out the voucher at the exit.
Before you travel the night through, as is practical in the heat, drink a glass of grog so you sleep well. But take along very little, for example no scruffy things for the trip! No cigars, nothing new, nothing that is taxable. You'll find every conceivable thing here with me. Don't let that make your journey uncomfortable.
With the advent of railroad travel, musicians like Brahms enjoyed travel opportunities that previously were possible only through complex logistical arrangements, sometimes involving significant physical hardship. As a symbol of the industrial age, the railway did not threaten him; he was comfortable with steam propelling him, not least when he traversed the distance between Vienna and his beloved Hamburg.
This according to "Johannes Brahms and the railway: A composer and steam" by Thomas Quigley (The American Brahms Society newsletter XXX/1 [Spring 2012] pp. 1–4; RILM Abstracts of Music Literature 2012-6996).
Today is Brahms's 190th birthday!
Below, the EuroCity 177 "Johannes Brahms" leaves Ústí nad Labem.
Related article: Antonín Dvořák, railfan