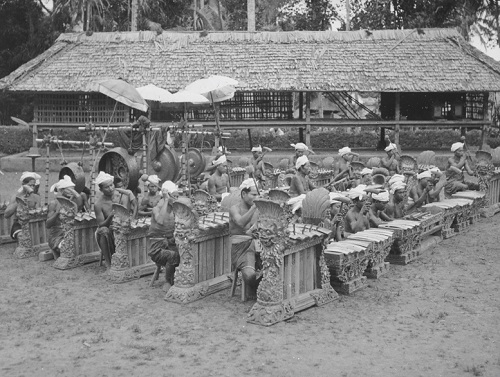 In August 1928 representatives from the German record companies Odeon and Beka were sent to Bali; their efforts resulted in 98 recordings of a wide variety of examples of Balinese music on 78 rpm discs.
Fortunately, expert guidance for the project was provided by the German expatriate Walter Spies, whose intimate knowledge of Balinese culture ensured that outstanding performances in a large range of genres were documented.
As it happened, at that time Bali was undergoing an artistic revolution. A new musical style known as kebyar was rapidly gaining popularity, and older ceremonial styles were literally disappearing, as their bronze instruments were melted down and reforged to accommodate the new style's requirements; the Odeon/Beka recordings preserve several musical traditions that were later lost.
Despite the three-minute limitation of early recording equipment, these discs became invaluable archives of Balinese musical heritage; for example, the historically important composition Kebyar ding, once forgotten, was relearned from the recordings by the present generation of musicians, and some records of renowned singers are considered sacred by their descendants, who keep tape copies in family shrines.
These were the musical documents that inspired the young Canadian composer Colin McPhee, who first heard them in 1929. McPhee travelled to Bali in 1931 and remained there for nearly a decade; his activities included making painstaking transcriptions of Balinese pieces. McPhee's own collection of the 1928 recordings includes most of the copies that are still preserved today, as they quickly went out of print and were discarded due to disappointing sales.
This according to the commentary by Edward Herbst that accompanies the CD The roots of gamelan: The first recordings—Bali, 1928; New York, 1941 (World Arbiter, 1999; RILM Abstracts of Music Literature 1999-38076).
Above, a gamelan gong gede group photographed by McPhee in the 1930s (UCLA Ethnomusicology Archive and Colin McPhee Estate).
Below, two of the six discs devoted to Kebyar ding, with archival photographs.
More posts about Bali are here.