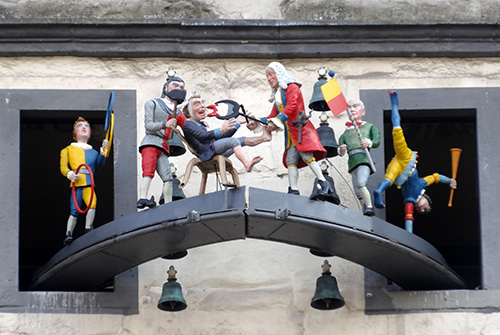 The ancient city of Hann. Münden was home to one Johann Andreas Eisenbarth, who was a surgeon of some repute despite never having any formal medical training.
In 1980, a musical clock was installed in the upper story of the Rathaus in Hann that honors the legendary doctor. At a few minutes past noon, an automatic carillon plays the tune of the drinking song Ich bin der Doktor Eisenbarth. Automata depict the doctor extracting a huge, bloody tooth from the mouth of a terrified, gesticulating patient.
This according to "Dr Eisenbarth's automated musical clock in Hann. Münden" by Mark Singleton and Sven Heinmann (The music box: An international journal of mechanical music XXVIII/5 [spring 2018] pp. 185–87).
Above and below, the good doctor in action.
BONUS: A chance to sing along!