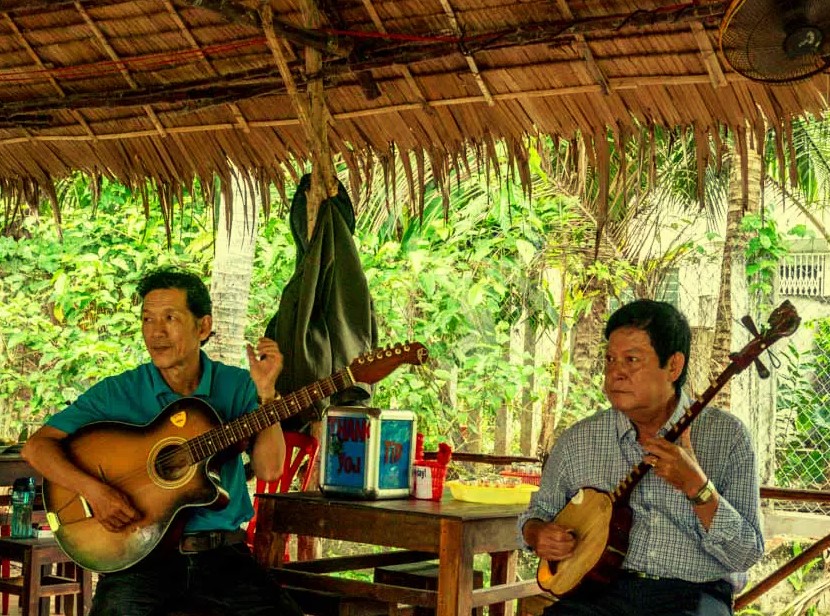 "After being in Vietnam for over two weeks visiting all possible leads on musical instruments, I was struck with a mild case of musical instrument information overload. One day, I wandered into the central part of Hồ Chí Minh to buy something for my lunch. There, I spotted the Hồ Chí Minh City Museum.
I deliberated, will I or won't I go in? I supposed they were probably going to close for the midday intermission soon but I decided to give it a quick look. Entering the gates I spotted the ticket office, enquired as to their operating hours, and asked if there were any musical instruments on display. Yes, they were open and yes, they had musical instruments on display. Hip hip!
Wandering around the museum, I found that most of the few musical instruments were already entered in my notes. Therefore, I was thrilled when I stumbled upon the mõ đình, a log slit drum. My last steps were to be the gift shop where I looked eagerly through the books, hoping that one may have information on musical instruments. I was disappointed to find most related to the Vietnam War. I did, however, procure two inexpensive musical instruments–a song loan and a sênh suứ.
Upon leaving, I was surprised to notice one last hidden room down a small hallway. I found two instruments I'd never seen, read of, or been told about before – the chordophones đàn măng đôlin (similar to the mandolin) and the đàn octavina (comparable to the steel string guitar). Both had been adapted from their western equivalent, with a ribbed fingerboard, like the lục huyền cầm (Vietnamese Guitar). I never did get lunch that day, opting instead to visit the Traditional Musical Instruments and Costume Showroom, two blocks away. Sadly this showroom has since closed down."
The above excerpt is taken from Terry Moran's Vietnamese musical instruments: A monographic lexicon. (2020). Find it in RILM Music Encyclopedias (RME), and read up on all the Vietnamese instruments he mentions here.
Above are two musicians performing in a coffee shop in Ho Chi Minh City. Below is a video of a musician playing the đàn măng đôlin, an Vietnamese instruments similar to the mandolin.