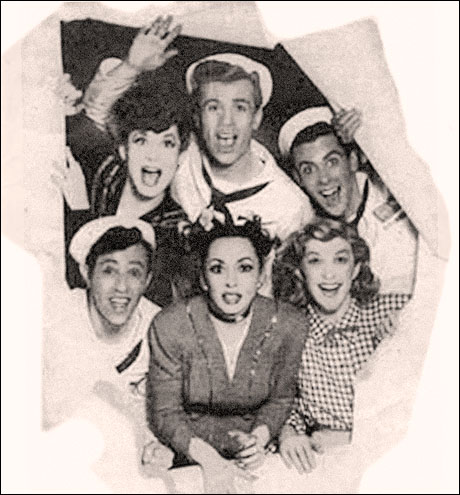 In 1944 Betty Comden and Adolph Green were performing in a Greenwich Village nightclub when their friend Leonard Bernstein stopped in to ask if they wanted to help him make a musical out of a ballet he had written for Jerome Robbins.
They had never attempted anything so ambitious, but since they weren't exactly deluged with offers they decided it would be foolish to turn him down.
They developed a stage book based on Robbins's ballet Fancy free, about three young sailors on a 24-hour leave in New York. The result was called On the town, and when it opened at the Adelphi Theater during the 1944 Christmas season they were also in the cast.
The show was hailed by critics, marking the beginning of a professional collaboration between the two that became, as The Chicago Tribune noted in 1990, "unchallenged as the longest-running act on Broadway."
This according to "Adolph Green, playwright and lyricist, dies at 87" by Richard Severo (The New York times CLII/52,282 [25 October 2002] p. A32).
Today is Green's 100th birthday! Above, the original On the town cast, with Comden and Green on the left. Below, one of their signature songs from the show.