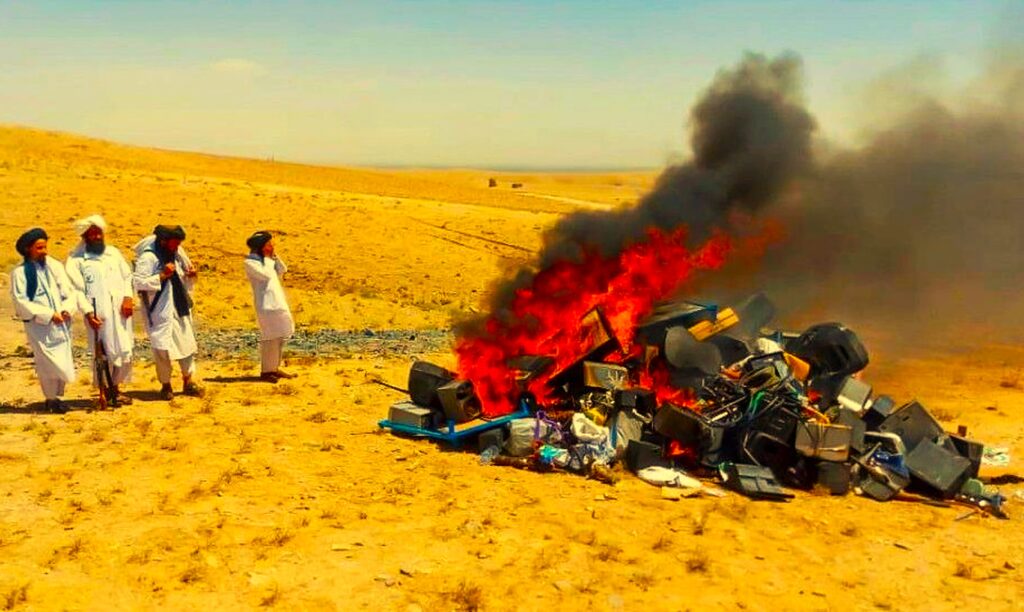 Sometime during the last weekend of July 2023, previously confiscated musical instruments were collected and publicly burned in the Afghan province of Herāt. The head of the local office of the Ministry for the Promotion of Virtue and the Prevention of Vice, Aziz al-Rahman al Muhajir, justified the burning by saying that music leads to moral corruption. Apparently string instruments, a harmonium, a tabla, and electronic amplifiers were burned. Performing music in public has been banned in Afghanistan since 2021.
Music has long been a controversial topic in Islam. Although the Islamic world has birthed rich and brilliant musical cultures, some Muslims nevertheless believe that music, especially instrumental music, causes people to go astray by indulging in sensual pleasures. The Taliban, a Sunni Islamic nationalist and pro-Pashtun movement founded in the early 1990s, rose to power in 1996 and subsequently banned the public performance of music and imposed numerous other restrictions on musical life. The group ruled around three-quarters of Afghanistan from 1996 to 2001 before being overthrown after an invasion led by the United States. The group regained power over the entire country following the August 2021 departure of coalition forces.
Speaking in July 2023, Ahmad Sarmast, founder of the Afghanistan National Institute of Music, likened the Taliban's actions to "cultural genocide and musical vandalism". Now living in Portugal, Sarmast says, "The people of Afghanistan have been denied artistic freedom . . . The burning of musical instruments in Herat is just a small example of the cultural genocide that is taking place in Afghanistan under the leadership of the Taliban."
Read on MGG Online.
Below is a performance of the Afghani rabāb accompanied by tabla at The Metropolitan Museum of Art in New York.
Read a previous related posts on Bibliolore: