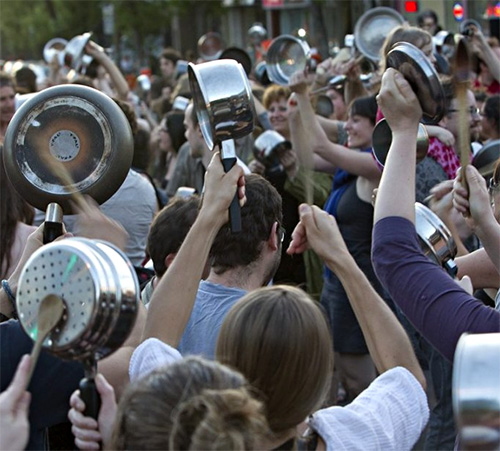 Cacerolazo, a fixture in Latin American protests for decades, involves a group of people making noise by banging pots, pans, and other utensils in order to call for attention. The first large-scale cacerolazos in Chile accompanied gatherings in 1971 to protest food shortages and other household stresses as the nation's economy slid towards a severe depression.
Having solidified its presence in the Chilean protest scene by 1973, cacerolazo was a natural part of the weeks-long protests targeting government economic policies in 2019. Protest songs were also an established tradition in Chile, and the two came together in the social justice rapper Ana Tijoux's politically charged single #Cacerolazo, which became a rallying cry for the dissent.
The hashtag in the song's title meaningfully connected it to the newer phenomenon of online social media-based participation blending into offline action, and the protesters' demands infiltrated the sociopolitical fabric at a pace and level that eventually resulted in Chilean leaders conceding to offer the public a chance to vote on replacing the Constitution in 2020.
This according to "Chilean cacerolazo: Pots and pans, song and social media to protest" by Kaitlin E. Thomas (Sounding board 2020; RILM Abstracts of Music Literature 2020-3028).
Currently, cacerolazos are part of the protests of the Myanmar coup d'état. Below, the official video for Tijoux's song.