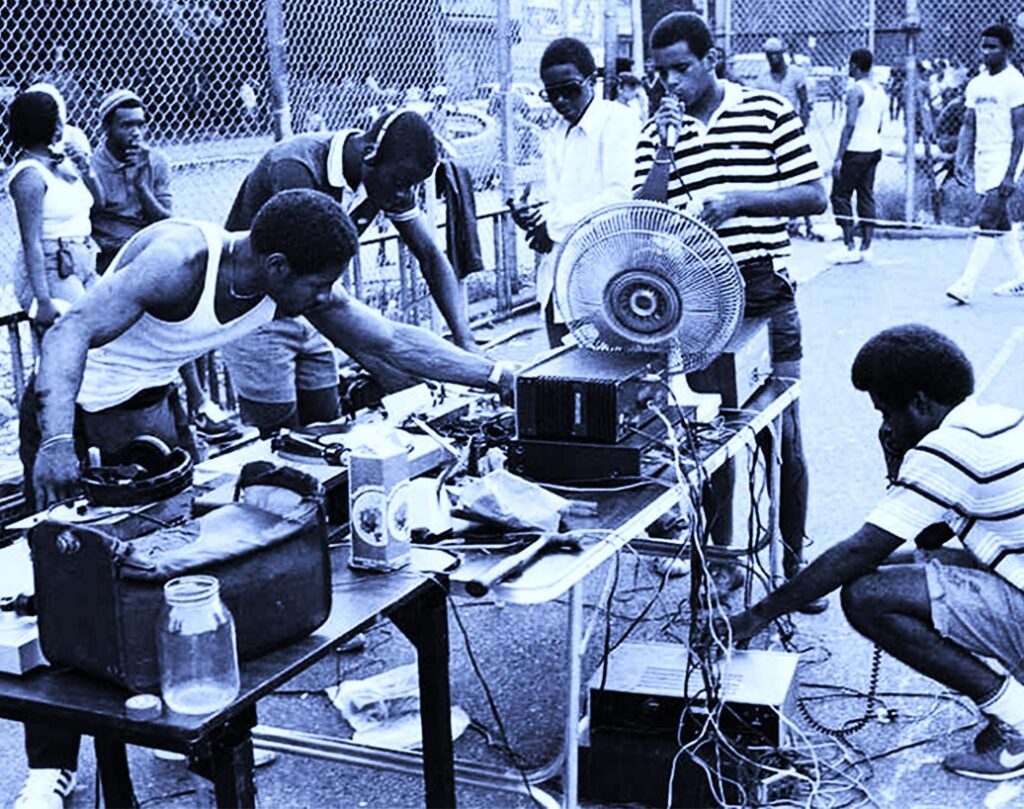 By the late 1970s, hip hop's five core elements had emerged, namely deejaying, emceeing, breaking, graffiti, and beatboxing. The first two originated primarily in New York City hip hop parties led by DJs (disc jockeys) who revolutionized the practice of record spinning through the art of turntablism, and MCs (master of ceremonies) who performed rhythmic call and response with audiences. Breaking (the dance element of hip hop), graffiti (the visual art of hip hop), and beatboxing (the ability to create beats with one's mouth) also formed in tandem with early hip hop culture at these parties.
Emceeing, which later known as rap, had cultural roots in the Black verbal arts of the United States and the Caribbean region. Mainland U.S. traditions that remained visible in hip hop include "jive-talking" radio personalities of the 1940s and 1950s, oral traditions of storytelling, and "playing the dozens", a competitive and recreational exchange of verbal insults. Jamaican traditions include toasting, mobile disk jockeys, and sound systems. Many hip hop pioneers were Caribbean immigrants who brought musical practices from their native countries and adapted them to new social and sonic contexts of New York City.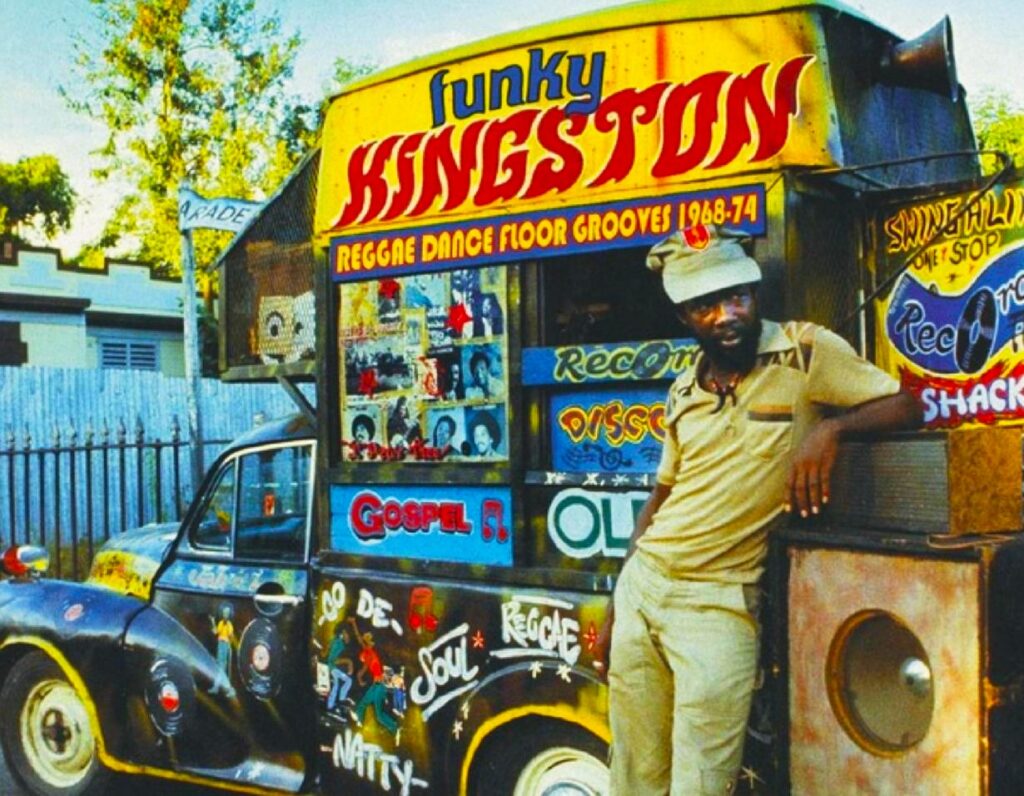 The mingling of Caribbean immigrant and native-born African American and Latinx communities in the United States set the stage for the development of hip hop and rap music. A large Caribbean community had developed in New York, where the first rap and dance parties were said to have begun, as early as 1972 in the Bronx. Rapping as a distinct musical form developed in New York as a cultural expression encompassed by hip hop. Socioeconomic conditions in the Bronx and Harlem in the 1960s and 1970s profoundly shaped the aesthetics and activities of hip hop culture. The construction of the Cross-Bronx Expressway in 1959 accelerated the deterioration of buildings and led to the displacement of communities of the south Bronx–in many of these areas, youth gangs and gang violence emerged. Despite the turbulence of the 1960s and 1970s, Bronx youth developed popularized expressions that eventually came to be associated with hip hop culture, then consisting primarily of graffiti and competitive dancing. Hip hop became a powerful cultural symbol of urban youth. Within a few years, it had spread far beyond the Bronx.
Rap largely incubated outside of the pop mainstream during the 1970s. Although commercial success eluded him, Kool DJ Herc is widely considered to be the godfather of rap. His ideology ultimately defined hip hop culture–he was a record collector, dedicated to finding jazz, rock, or reggae discs possessing a funky drum break ideal for dancing. When asked in an interview about how many times he would play a break, Herc replied, "I wouldn't go too far. Two times. I'll just extend it two times. And James Brown says "Clyde" [for drummer Clyde Stubblefield]–that's my name. So James Brown shouted me out. Oooh. Then the break comes in. I used that to start me off, and then go into the Isley Brothers and [Babe Ruth's] The Mexican. Oooh, I like this. And then Jimmy Castor Bunch. Them were the records, man. I lay claim to it: That's a Herc record. I'd say, "You never heard it like this before, and you're back for more." That's it."
Spinning records at local venues, Herc attracted Black audiences largely from the Bronx and Harlem where so-called "b-boys" dominated club dance contests until Puerto Rican youth developed a new dance vocabulary of power moves known as breaking (or break dancing). "Some say hip hop some begins with the DJ. But actually hip hop culture itself begins with the b-boy. We're the x factor," says Cholly Rock (Anthony Horne), a first generation b-boy. Cholly traces breaking back to the 1960s when Latinos across New York started "rocking" or "uprocking," creating moves inspired by mambo music to contemporary soul and rock. Rocking was inspired by battle dances and performed as type of showdown. Some dancers latched on to its more aggressive components referring to the elaborate dance-disses as "burning." Provocative styles emerged among feuding New York City gangs, especially in the Bronx.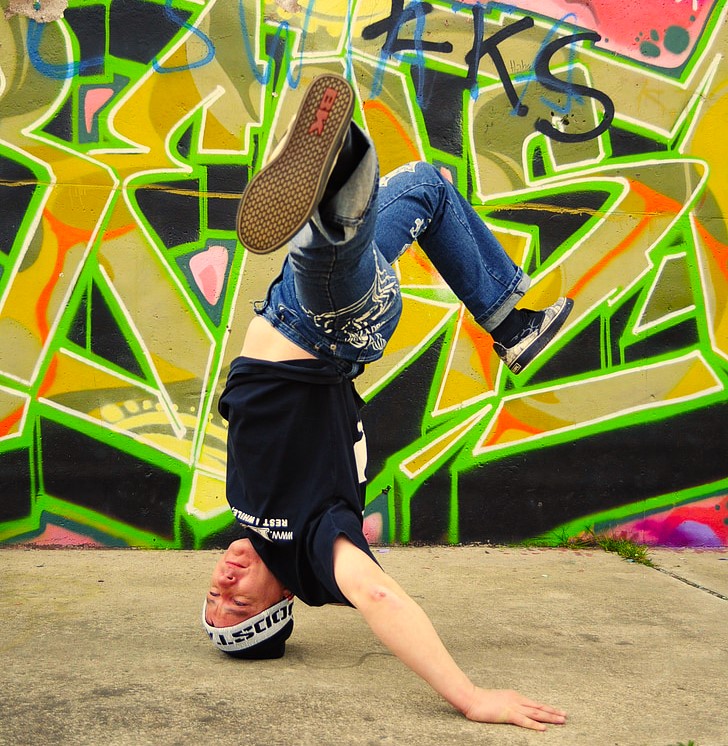 Grandmaster Flash (Joseph Saddler) provided the final impetus in making rap an art form. After moving to the Bronx from Barbados with his family as a child, Flash learned about electronics in a high school vocational class and quickly applied his knowledge to turntables and his father's record collection. He extended and refined Herc's breakbeat technique by incorporating a cross-fader system to monitor the mix on headphones and switch channels quickly–essentially inventing the turntable/mixer setup used by many hip hop DJs today. Flash specialized in playing breaks, the point when a DJ rapped, or a b-boy displayed his flashiest moves, and was adept at extending breaks and abruptly shifting records to the next break beat (or "cutting"). He also perfected "scratching" (see video below), the technique of taking the beginning of the beat, holding the record with your finger and making it go backward and forward with your finger.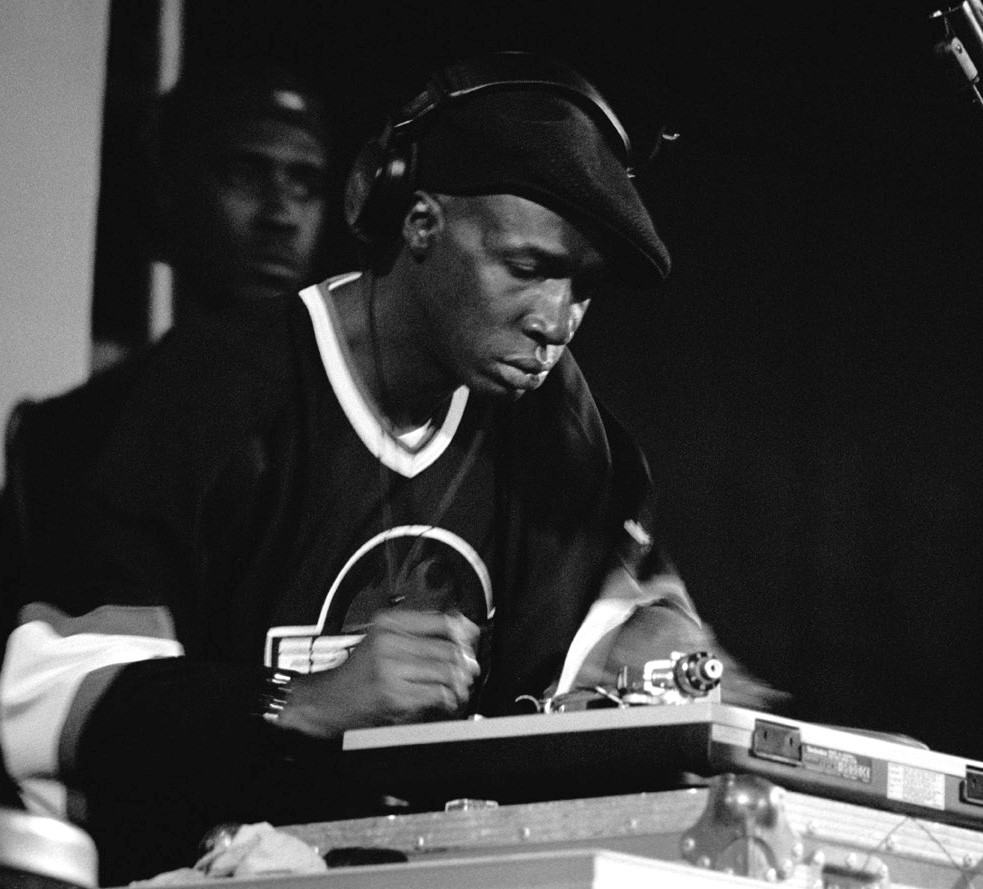 Look out for upcoming posts celebrating hip hop's 50th anniversary in the Hip hop at 50 series on Bibliolore. Find out more about the history of hip hop and contemporary scenes in RILM Music Encyclopedias (RME) and RILM Abstracts.
Read earlier posts on hip hop in Bibliolore:
Hiplife and indigenization
Electro hop and Afrofuturism
Need to learn more about turntablism? Let San Francisco Bay Area legend DJ QBert show you how it's done.