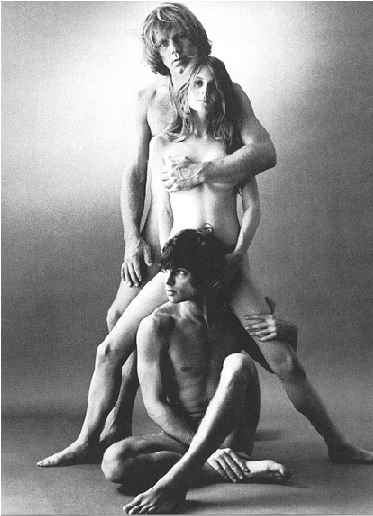 What is most striking about the nudie musicals that ran in New York in the 1970s—aside from the many naked, jiggling bodies, of course—was just how conventional they were.
Even the raunchiest of the bunch espoused the same basic messages: Human bodies are beautiful! Sex, regardless of with whom, is natural and fun! The seismic cultural shift that is taking place right outside this theater is not threatening or confusing or scary at all!
In marked contrast with XXX theaters, peepshows, and sex clubs like Plato's Retreat, the sex that nudie musicals featured was simulated—never real—and was almost always packaged in a familiar, age-old format: the musical revue.
This according to "Nudie musicals in 1970s New York City" by Elizabeth L. Wollman (Sound matters 16 June 2014; RILM Abstracts 2014-15971). Wollman's monograph on this topic is Hard times: The adult musical in 1970s New York City (New York: Oxford University Press, 2013).
Above, one Kenn Duncan's photographs of the members of the original Broadway cast of Hair, now part of the New York Public Library's Kenn Duncan Photograph Archive. Below, the finale of Oh! Calcutta!