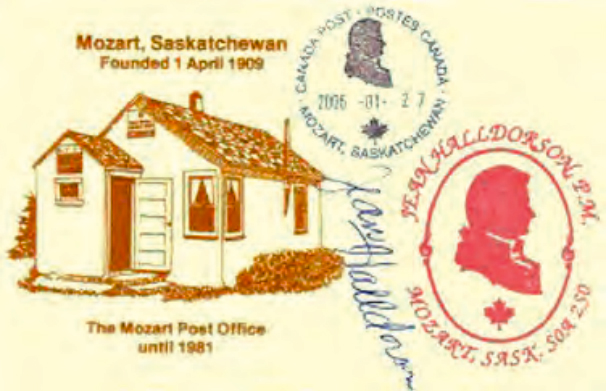 In 1904 Ole Lund, a Swedish immigrant living in Minnesota, applied to the Canadian authorities for a piece of land under the Dominion Lands Act of 1872. On receiving the allotment, he moved there with his wife, Julia.
The next year the province of Saskatchewan was established, and the Canadian Pacific Railway began its expansion westward; surveyors chose the Lund farm as their base of operation, and it became apparent that there would be a station depot not far from the Lund Homestead.
The railroad company offered to name the place Lund. The Lunds declined, and Julie Lund suggested that the hamlet be named after her favorite composer, Mozart. The name was accepted, and Mozart, Saskatchewan, officially came into being on 1 April 1909.
In the 1970s postcards with a line drawing of the town's post office (above) were made available for sale in a nearby cooperative store. Mozart's 222nd birthday, 27 January 1978, was an extremely busy day for the postmaster of the Mozart Post Office, who had to oblige stamp collectors from all over the world who were anxious to have the anniversary cancellation.
This according to "The Mozart Post Office" by S. Sankaranarayanan (Sruti 376 [January 2016] pp. 54–55). Below, the celebrated "Letter duet" from Le nozze di Figaro.
More articles about Mozart are here.