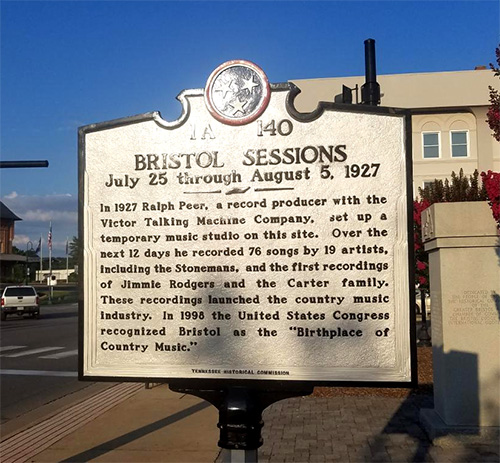 In the summer of 1927 a group of musicians gathered for a recording session in Bristol, on the Tennessee-Virginia border, including musicians who would become some of the most influential names in American music—the Carter Family, Jimmie Rodgers, Ernest Stoneman, and more.
Organized by Ralph Peer for Victor Records to capitalize on the popularity of "hillbilly" music, the Bristol sessions were a key moment in country music's evolution, producing the first commercial recordings by these artists.
The musicians played a variety of styles largely endemic to the Appalachian region. Rather than attempting to record purely traditional sounds, however, Peer sought a combination of musical elements, an amalgam that would form the backbone of modern country music. The reverberations of the Bristol sessions are still felt, yet their influence is widely misunderstood, and popular accounts of the event are more legend than history.
This according to The Bristol sessions: Writings about the big bang of country music (Jefferson: McFarland, 2005; RILM Abstractsof Music Literature 2005-19593).
Below, all four tracks from the Carter Family's Bristol session.