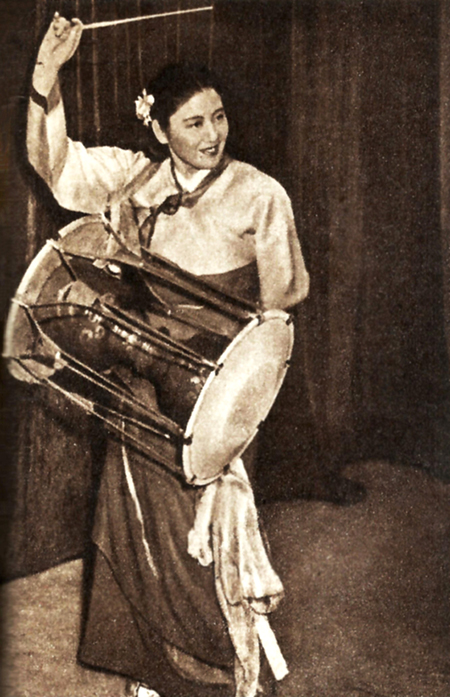 Choe Seung-hui's career moved in the reverse of the developmental narrative often associated with non-Western choreographers who study Western dance.
The earliest dance photographs of Choe show her in form-fitting leotards and short tunics, showing off her muscular and flexible body through extended lines, pointed feet, and angular planes, her face expressing seriousness or ecstasy—the epitome what one might envision today as modern dance.
But for her, this style ultimately came to represent imitation and convention rather than innovation and creativity. Whereas those early dances followed in the styles of others and worked in their voices, it was in formulating dances involving traditional Korean models that Choe invented her own style and established something new that would influence others.
For Choe, what looked like modern dance from a Western perspective was less modern than the Korean-style modern choreographies with which she made her mark as a modernist choreographer, dancer, theorist, and pedagogue.
This according to "Locating performance: Choe Seung-Hui, East Asian modernism and the case for area knowledge in dance studies" by Emily E. Wilcox, and essay included in Futures of dance studies (Madison: University of Wisconsin Press, 2020, 505–22; RILM Abstracts of Music Literature no. 202o-14576).
Today is Choe Seung-hui's 110th birthday! Above, a photo from the 1950s; below, a partial reconstruction of Choe's choreography.