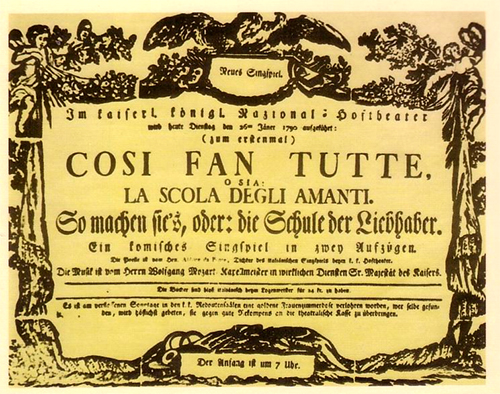 The immorality of the characters in Mozart's Così fan tutte, o sia La scuola degli amanti, K.588, has always been shocking to operagoers, and some have denounced Da Ponte's plot as tasteless and vulgar; but the librettist did not invent the story—he simply borrowed the myth of Cephalus and Procris, enriching the tale by doubling the pair.
Others have maintained that the characters are mere puppets, not real people, so one may relax and enjoy the blameless music. However, Mozart drew fully developed musical characters for all of the roles, musically asserting their reality.
Ultimately, the work is a ruthlessly rational exposure of the instinctive irrationality of human behavior—and therein lies its ability to shock.
This according to "The truth about Così" by Donald Mitchell, an essay included in Tribute to Benjamin Britten on his fiftieth birthday (London: Faber & Faber, 1963, pp. 95–99).
Today is the 230th anniversary of Così fan tutte's premiere! Above, a handbill for the first performance; below, an excerpt from Act II.
More articles about Mozart are here.