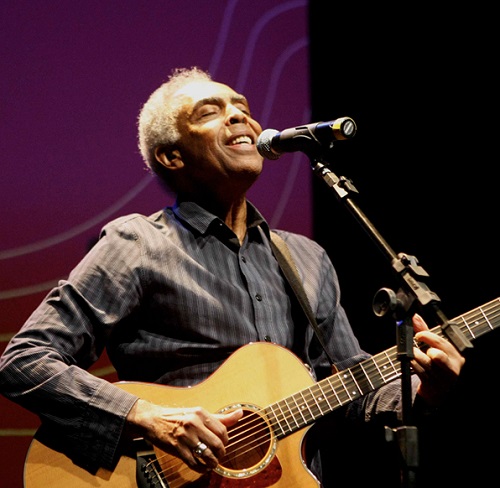 On Ash Wednesday 1969, shortly after being released from a military prison in the neighborhood of Realengo, Rio de Janeiro, Gilberto Gil composed the song Aquele abraço (Big hug), which would eventually become a landmark in the history of Brazilian popular music.
It was his last day in Rio de Janeiro before he was placed under house arrest in Salvador (where he developed the melody and instrumentation for the song) and sent into exile due to his confrontation of the military dictatorship. The song became a kind of unofficial theme song of the city of Rio de Janeiro. In it, Gil referenced many personalities, events, neighborhoods, and traditions, creating a musical picture of the city. After his exile, the song acquired an added poignancy, as if he were greeting his beloved city from abroad.
Between that time and his work as Minister of Culture from 2003 to 2008, his musical innovations always went in tandem with his social and political activism, which were defining aspects of his career. Since the times of tropicália, Gil, along with his friend and fellow exile Caetano Veloso, has been at the center of some of the most important movements in Brazilian popular music. His imagination is boundless, his lyrics are superb poetic creations that honor the music and the cadence of the Portuguese language, and his effortless eclecticism continues to surprise.
Throughout his career, it was almost as if each new album stood at the beginning of something new. He has always been chameleonic and kaleidoscopic. No musical genre was beyond his reach: samba, choro, forró, reggae, rap, rock, folk song, ballad, candomblé. His works form a tapestry of the many musical traditions of Brazil, and it is literally impossible to single out any particular song as representative of his career.
His birthday comes two days after the traditional feast in honor of St. John (June 24), which is a major cultural event in northeastern Brazil, a showcase for the music, culinary traditions, dance, and costumes of the region. Here he is, donning a traditional hat from the heartlands of the northeast, celebrating the tradition in a live concert for the public of São Paulo. And so, "Aquele abraço" on his 80th birthday!
For a comprehensive biography, see GiLuminoso: A poética do ser–Gilberto Gil (São Paulo: Imprensa Oficial do Estado, 1999; RILM Abstracts of Music Literature 1999-49790). Above, Maestro Gil in 2012.