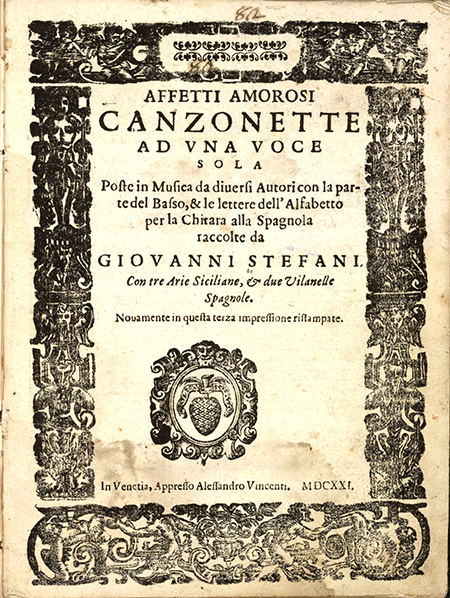 In 2020 A-R Editions issued Giovanni Stefani's song anthologies (RILM Abstracts of Music Literature 2020-14972), which brings together for the first time all three of Stefani's anthologies in modern transcription, allowing performers to play either from the original alfabeto notation or from a modern realization, given both in modern guitar chord symbols and harmonies in staff notation, making it possible for all instruments to participate in the continuo band.
The three song anthologies of Giovanni Stefani survive as the most abundantly printed seventeenth-century songbooks with the chordal guitar notation known in Italy as alfabeto. Printed in multiple editions from 1618 to 1626, Stefani's books anthologize nearly one hundred songs, many of which appear copied in numerous other manuscripts, attesting to their widespread appeal in early modern Italy.
While beginners will be drawn to their simplicity, experienced performers will delight in the improvisational opportunities made available by songs built on the spagnoletta, folia, ciaconna, and romanesca.
Above, the cover of Stefani's first anthology, Affetti amorosi; below, Costanza amorosa as it appears therein.