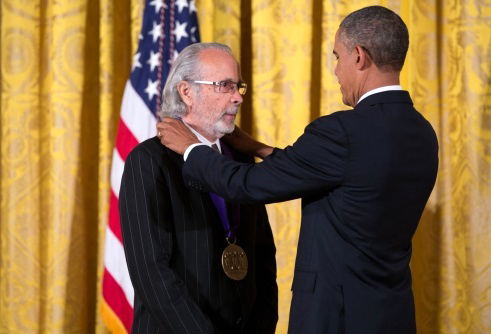 The Herb Alpert Foundation has made major grants to the UCLA School of Music and California Institute of the Arts.
In a 2010 interview, Alpert discussed his philanthropic goals, especially that of supporting educational programs that move beyond a focused concentration on the technical aspects of the musical art.
"There's two ways to approach jazz," he said, "you can approach it from the outside point of view where you have chords that are a little remote from the actual melody, or you can stay within the context of the song and play it from that angle. I don't try to force any notes or rely on techniques that I've learned through the years. I try to just let it happen as it happens—which is the only way to approach jazz."
This according to  "In the name of imagination" by Don Heckman (Jazz education guide 2009–2010, pp. 20–26).
Today is Herb Alpert's 80th birthday! Above, receiving the National Medal of Arts from President Obama in 2013; below, back in the day.